Advent Calendars 2022
Christmas 499
Added by: Shropshire Mums on Sat Nov 5 15:52 2022
FOR THE KIDS
Haribo Advent Calendar
Themed, fun and perfect for those looking for an alternative to the traditional chocolate calendar! This tasty advent calendar brings together Haribo favourites from across the world including Tropifrutti, Goldbears and MAOAM.  Packed with tasty sweet treats for every morning on the run up to Christmas.
RRP £12.99
What did we think?
Well it's true kids and grown up's do love them so and here at Shropshire Mums we are partial to the odd Haribo ourselves.  This is a really great advent calendar for those with a sweet tooth with something different behind each door.  The calendar itself is a really great size.
Wickedly Welsh Advent Calendar
Countdown to Christmas the right way with a taste of the lovingly hand-crafted award winning Wickedly Welsh chocolate. Twenty four doors of delight filled with an assortment of deliciously decadent chocolate pieces you'll be able to indulge yourself with a small taste of Wales every day up until Christmas - lucky you!
Has the mania of Christmas made you lose track of the days? Christmas can get hectic so Wickedly Welsh want to help in any way they can, and that's why they've created the Wickedly Welsh Advent Calendar! After all, there's no better way of keeping track of the chaotic run up to Christmas than with a chocolate calendar countdown. Now there really is no excuse for those last-minute Christmas shopping trips.
This one is going to take a LOT of self-control, with chocolates so tasty you won't want to wait a day to taste your next one! Unlike your normal chocolate advent calendar, you get much more than just your usual slab of plain chocolate. Peel back each door to reveal the wonderful taste within, with a different delicious flavour combination behind each door this is a chocolate advent calendar you will never get tired of.

There really is no better way to say "Nadolig Llawen" (Merry Christmas) from Wales than with this perfect gift that keeps on giving – for 24 days to be exact! Send to a loved one and keep their sweet tooth satisfied throughout December.
RRP £19.99
Wickedly Welsh Advent Calendar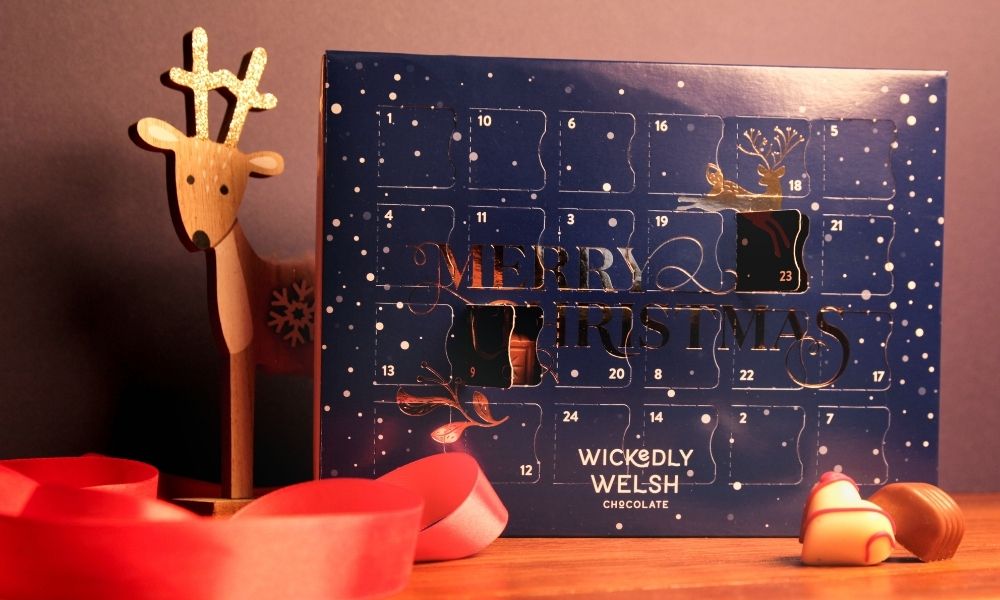 What Did We Think?
This is a beautifully presented Advent Calendar from our friends across the border and the chocolate tastes aboslutely devine, very creamy and luxurious tasting.  A really lovely gift for anyone but in particular either to or from Welsh friends and family.  We would definately hide this from the kids!!
Dairy Free, Vegan 'Milk' Chocolate Advent Calendar From MOO FREE
Moo Free dairy-free and vegan 'milk' chocolate Advent Calendar is the perfect choice for any dodging Christmas choccy chompers. This fun packed free-from Advent Calendar is great for kids or adults alike.  The shapes behind the doors  will give you a new surprise everyday, but don't go peeping before you should!
 Vegan 

 Vegetarian 
 Dairy Free 
 Lactose Free
 Gluten Free 
 Soya Free 
 Palm Oil Free
These delicious, dairy free and vegan milk chocolate Advent Calendars are made using Rainforest Alliance Chocolate, which means that by purchasing these chocolate Advent Calendars you are also helping to protect the plant. As well as being dairy-free these Advent Calendars are also gluten-free, soya-free and 100% vegan.
Not only is the tray in these Advent Calendars made from recycled material but you can recycle it again, along with the rest of the packaging. The Moo Free factories where these Advent Calendars were made send 0% waste to landfill and the wonderful Moo Free Team includes several amazing people with autism.
Moo Free bring you all the flavour of great tasting, milk chocolate Advent Calendars but know the secret of how to make them dairy free, gluten free, soya free and vegan.
From £3.99
What Did We Think
It's always great to see something catering for special dietry requirements and Moo Free pull this off very well.  Lovely bright and colourful artwork and the chocolate inside dosn't disappoint either, it's great to see a choice of both original and white chocolate too and at a fantastic price too.  All too often special dietry products can be pricey but Moo Free manage to balance great quality with a great price point for thei advent calendars.
Disney Story Book Advent Calendars
One of the most popular releases for Igloo Books will be coming to major retailers and online outlets in time for the 2022 holiday season. The Disney Storybook Advent Calendar, Princess Storybook Advent Calendar, and Marvel Storybook Advent Calendar each include 24 brand-new story books to unwrap every day in the run-up to Christmas, featuring popular characters from the franchises. 
The storybook advent calendars are set to be best-sellers once again this year . 

The recipe of Disney's wonderful characters, packaged within such a bold and exciting format, will ensure every child's countdown to 

Christmas is full of anticipation and fun!"
RRP £12.99
Available from a Large selection of Major outlet stores and online retailers
What did we think?
These are such an amazing alternative to the chocolate advent calendar or indeed in addition to.  Great for little ones to open each morning and look forward to a little bedtime story at the end of the day. With the 3 available versions there is something to suit most young children and we love that it can also be kept as a collection for throughout the year and even handed along to someone else as time goes by.  This ticks so many boxes from the healthy educational option to the eco friendly reusable handing down ability.  The little books are perfect little bed time reads.
The Very Merry Toucan Box Advent Calendar
Construct a chimney chute and stack it high with 24 boxes of festive fun. Pull out a box each day of advent to discover a craft, recipe card, story book or elf challenge. 
The Very Merry Advent Calendar features:

5 ENCHANTING BOOKS

Discover snowy science with Dot in "How To Make A Snowflake"
Explore Christmastime technology with TB1's festive invention, "Rudolph the Robot Reindeer" 
Learn all about the engineering behind a Christmastime tradition in "Kit's Christmas Cracker"
Get creative and marvel with Mati at "The Best Ever Christmas Card"
Screw on your thinking cap as you join Al to enjoy "Sums with Santa"! 
7 EXCLUSIVE CRAFTS 

 Craft super cool, christmassy creations! A snowball juggling bear bauble, snowmen puppets and many, many more!  
4 YUMMY RECIPES

It's the most scrummiest time of the year! Bake gingerbread reindeer, chocolate Christmas wreaths and hot chocolate spoons.
MERRY MISCHIEF ELF 

Accessorise an adorable elf plushie and play elf games together! Cosy Christmas cuddles and playful pranks await!
Each calendar also includes a handy Grown Up's Guide, with a timetable describing the contents of each box and plenty of prank inspiration for you to enjoy with your Merry Mischief elf!

Pre-order now to secure a special Christmastime treat they'll love!
Hurry! The Very Merry Advent Calendar is strictly limited edition and won't be here for long! 
Currently on offer from £45 down to £35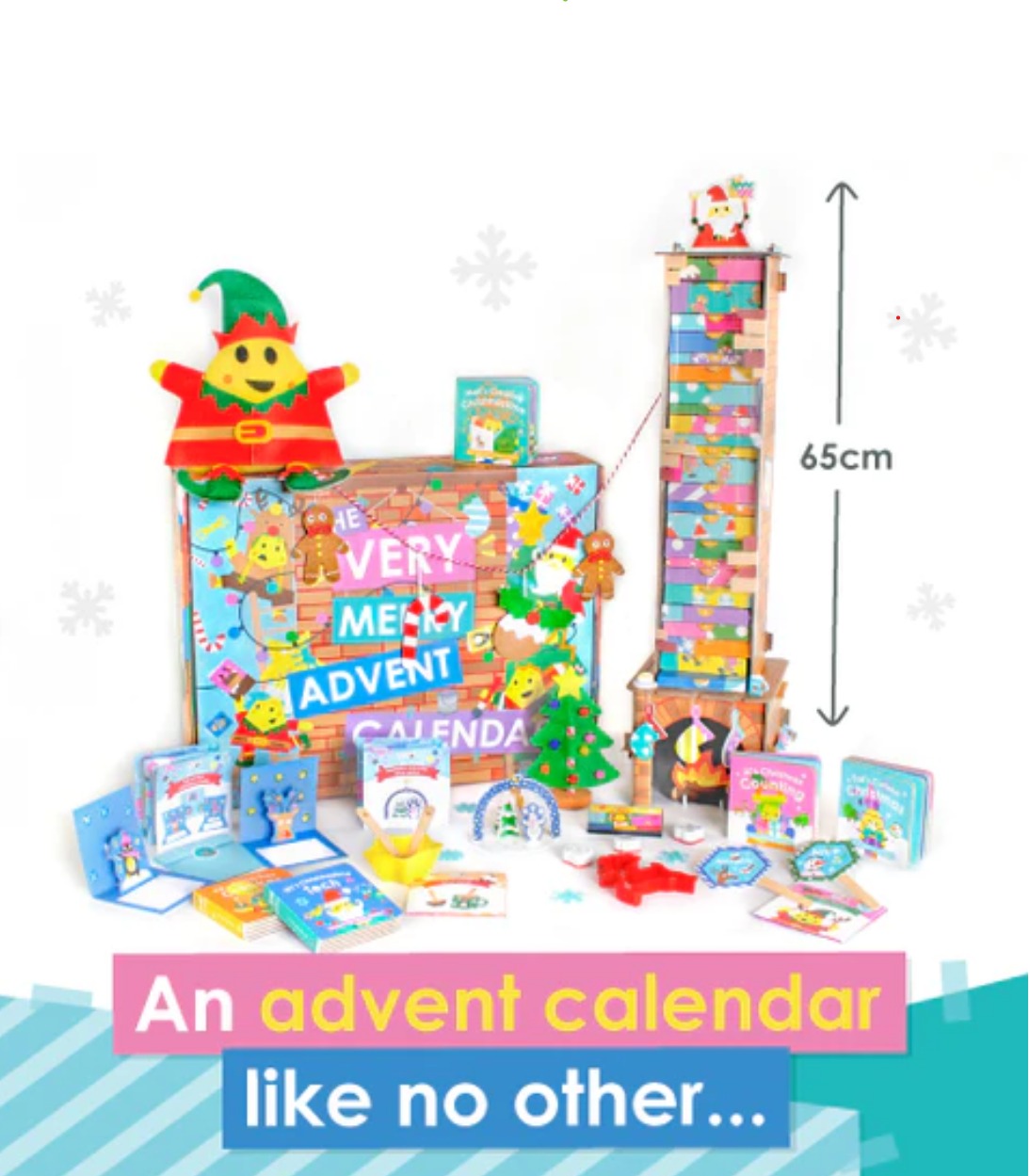 What Did We Think?
Wow, this is so much fun and such a fantastic price too (especially now it's on offer with a huge £10 off).  We have reviewed Toucan boxes in the past and they have always been great fun.  In the past we have created so many great fun crafts with these kits and we always find them a great to spend time with the kids having fun.  The Toucan kits always have that great educational element too with great facts and info quite often included in the packs.
We love how you even build the advent calendar yourself and it really is a great variety of activities each day. This ticks so many boxes for us as parents, it gets the kids away from screens for a while, family engagement getting involved in crafting / cooking / reading together and it is of course the healthy option too.  I would also say the advent calendat could be kept to use again in the coming years by perhaps refilling the boxes or making your own boxes to stack inside the chimney.
Roblox Blind Multipack Advent Calendar
Make the holiday season even more exciting with the 24 door Roblox Advent Calendar. Countdown to Christmas by opening up a door each day to find new holiday-themed Roblox characters and accessories! Mix and match parts to build your own unique Roblox character. Deck out your figures with the included accessories. Each package comes with two redeemable codes to unlock exclusive virtual items on Roblox. Collect all your favourite Roblox figures today!
Retailers: Smyths, Toymaster, Amazon, Very.com, Studio, ABGee, Selfridges, Game, Bargain Max, Zavvi, Toys R Us, Ken Black. Age: +6
 £29.99rrp
What Did We Think?
Ah Roblox..... The super popular kids app has been around for what feels like forever, this is a great way to combine s bit of screen playtime with off screen role play, a great calendar feature good quality collectable figures and the addition of the bonus codes for extra online content keeps the kids super happy too.  We honestly think this will be a super popular choice this year and when you check out the price of the single blnd bags this is actually pretty good value too.
Bird & Blend Advent Calendar

Bird & Blend's magical tea advent calendar is back and better than ever! 
Since launching the 5* reviewed advent calendar many brews ago in 2016, every year Bir4d & Blend try to make it more magical, and this year is no different!
Unlock 2 surprise tea parcels every day! Yes, 48 cups of TEA!
100% plastic free & recyclable, including plastic free tea bags
New! Build your own tea wall at home
Hand packed & assembled by our team
Plus free UK delivery!
Join the Digital ADVENTure with like minded tea lovers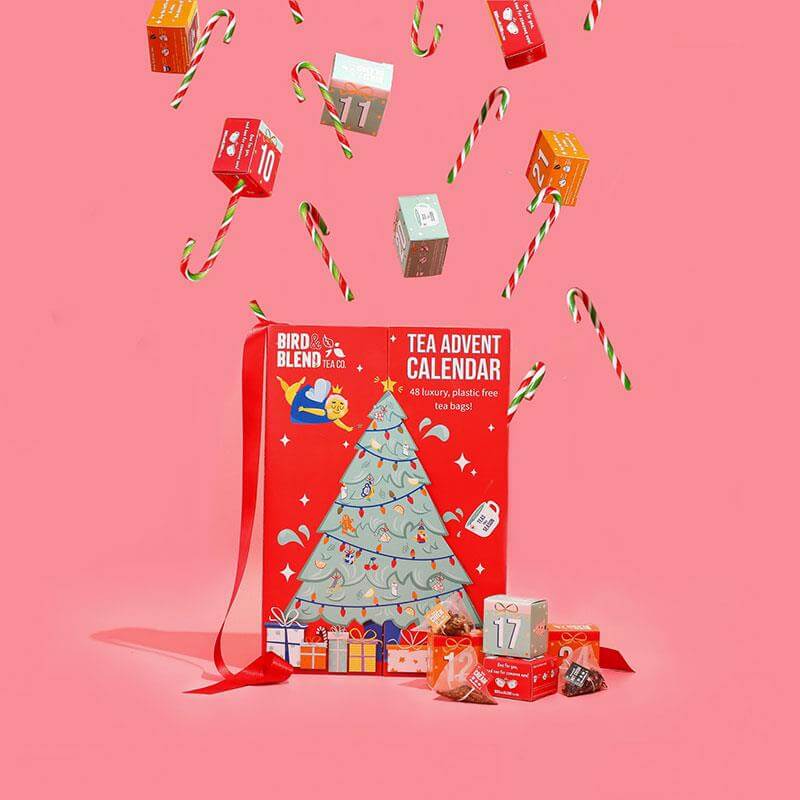 What did we think?
There is nothing quite like a cuppa to start the day and this is a great advent calendar for tea lovers, lovely tasting tea and a great way to sample the festive teas and the staple favorites this festive season.
RRP £38

Cheese Geek Advent Calendar

Swap chocolate for cheese and make it the tastiest countdown to Christmas yet with (according to The Cheeses Geek's) the World's Greatest Cheese Advent Calendar. Behind each window you'll discover a unique artisan cheese that we love. The advent calendar will arrive in 3 deliveries so the cheese is in tip top condition, each delivery also contains a pack of Peter's Yard crackers, a honey and a condiment. 
The perfect early Christmas gift for the cheese fanatic in your life. LIMITED EDITION, available whilst stocks last.
Whilst the contents of the calendar are being kept a suprise, you'll receive 24 x 75g pieces of cheese equalling over 1.8kg(!) of cheese.
In each delivery installment you'll also receive a box of Peter's Crackers, a 45g of honey and a 113g jar of a condiment designed to complement the cheese.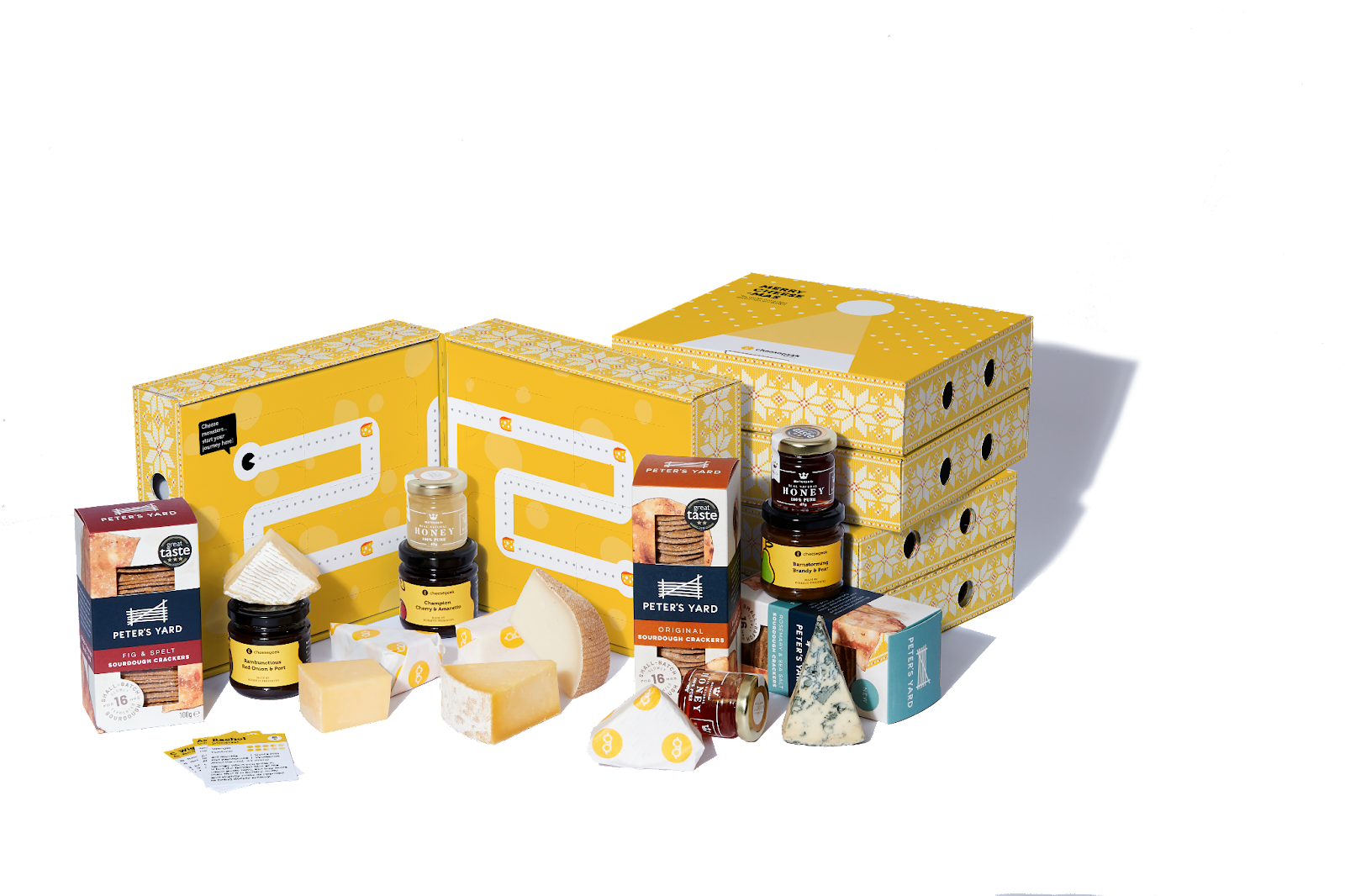 What did we think?
Well this really is the luxury treat for the cheese lovers, whilst we didn't get to see the entire calendar we did sample a selection of some of the cheeses included in the calendar and they tasted delicious and arrived through the letterbox fresh and still nicely chilled in the super efficient packaging.  Plenty of cheese to keep you going for the entire of Christmas and beyond.
RRP £150
Bonne Maman Jam Advent Calendar
What's Inside?
A joyful design of a traditional carousel centred around a snowy, bedecked Christmas tree, this year's Advent Calendar features 23 doors hiding an adorable mini jar of conserve, every one an exclusive fruit variety or unique flavour combination created especially for Christmas 2022.
The perfect way to say Joyeux Noël  this holiday season, our Advent Calendar starts the excitement with an extra little present on December 1st plus another gift to usher in the big day itself on the 24th.

Christmas Countdown
with a new discovery every day...
Each day offers a new, delectable taste sensation to enjoy over the Christmas period. Countdown to Christmas and delight in finding a 30g mini jar of the following:
Apricot with Bergamot Spread

Fig with Cardamom Extra Jam
Mirabelle Plum with Linden Blossom Spread
Peach with Jasmine Flower Spread
Apricot and Peach Jam
Strawberry with Star Anise Spread
White Nectarine and Peach with Lemon Verbena Spread
Peach with Mint Spread
Pineapple and Yuzu Extra Jam
Strawberry and Redcurrant
Orange with Cinnamon Marmalade
Pear with Cocoa nibs Spread
Cherry with Spices Extra Jam
Strawberry with Verbena Spread
Orange, Yuzu and Grapefruit Marmalade
Apple with Caramel and Cinnamon Spread
Cherry with Elderflower Spread
Mango, Raspberry and Lime Spread
Sweet Orange and Mandarin Marmalade
Rhubarb and Strawberry Extra Jam
Chestnut and Orange with Spices Spread
Mirabelle Plum with Spices Extra Jam
Grapefruit and Dragon Fruit Spread
And don't forget – the empty jars can also be saved and upcycled into pretty Christmas decorations or stocking filler treats for Christmas day itself.
RRP £25.99

https://www.bonnemaman.co.uk/advent
What Did We Think?
This is one of our favorites, a hit with the whole family. What a great way to start each day than with a delicious mini jar of jam.  Each mini jar is plenty enough for a few slices of toast or a few dollops of jam in your porridge.  The only problem with this advent calendar is battling the kids for your share. We won't spoil the surprise for the secret Christmas eve treat.  Bonne Maman really do make delicious jam and this is such good value and we love how the empty jars can be recycled and used as storage or for crafting projects.
Baylis & Harding. Start the countdown to Christmas with this beauty advent calendar.
Includes 24 pamper treats

Plastic free outer packaging (100% recyclable)
Jojoba, vanilla & almond oil fragrance:

- 2 x 30ml body wash
- 2 x 30ml bath & shower crèmes
- 2 x 30ml hand creams
- 1 30ml foot lotion
- 30ml body lotion
- 30ml shower gel
- 2 x 25g bath soak crystals
Wild fig & pomegranate fragrance:

- 2 x 30ml body wash
- 2 x 30ml bath bubbles
- 2 x shower crèmes
- 30ml bath & shower bubbles
- 2 x 30ml hand creams
- 30ml body lotion
- 30ml foot lotion
- 25g bath soak crystals
RRP £45
Available from most large department stores, supermarkets and various online retailers
Or visit https://baylisandharding.com/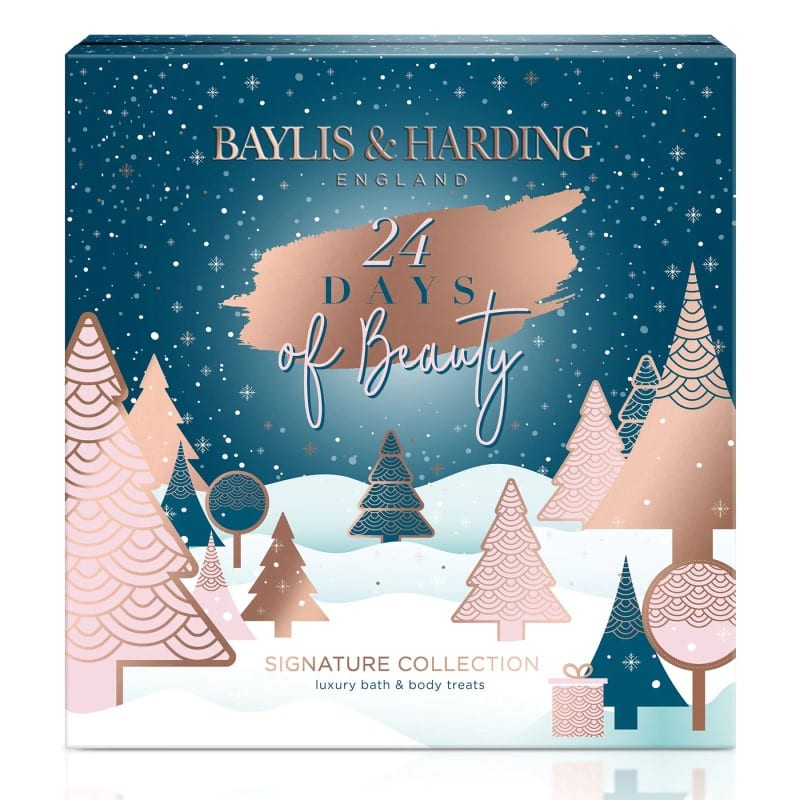 What Did We Think?
Well most of us love a bit of a pamper, especially on these cold winter days and nights.  Such a fantastic way to try out the range, Bayliss and Harding are always somewhere underneath our tree at Christmas.  This would also make a perfect early Christmas treat for someone special.  Great quality and lovely packaging.
The Original Cake Company Artisan Festive Advent Calendar
All calendars are handmade and will have a minimum shelf life of End of January 2023
Here's the sweetest way to count down to Christmas! This advent cake calendar is a fun holiday tradition you will look forward to. Discover the delicious surprises hidden inside each festive window. Each door hides a bite-sized chunk of The Original Cake Companies finest chocolate truffle cake or a decadent fruit cake. The Cake selections are dispersed randomly throughout the calendar, so each new day is a surprise.
These calendars work perfectly as a gift for family, friends, or to share with a loved one.

Quantities are limited as these will be freshly baked and carefully hand decorated, so don't miss out and order yours now to secure your unique advent calendar.

Tasting Notes

Fruit Cake – decadent fruit cakes are moist, rich in flavor and have a fruit content of over 50%

Chocolate Cake – Chocolate truffle cake is the perfect mix between a brownie and an indulgent chocolate cake, this combination makes the perfect fudgy cake for any chocolate lover!
Finish
Hand decorated with an assortment of toppings including Belgian chocolate drizzle, traditional marzipan, icing, mixture of nuts, glace orange, sprinkle and Christmas sugar decorations
Presentation

Will come sealed in clear food safe cello and beautifully presented in an elegant box

Approximate Cake Sizes
W45mm x D45mm x H35mm
What did we think?

First thought ......Oh my goodness me.... cake every day. Who wouldn't love a cake advent calendar?  The sample pieces of cake are absolutely delicious and great as a daily treat with a cuppa to wash it down, they taste amazing and are beautifully decorated.  A great choice for that special someone who loves a sweet snack. (me).
RRP £39.95
Original Cake Company Advent Calendar
Fabulosa Wax Tea Light Advent Calendar
Save and sparkle Fabulosa, the fragrance-led household brand has recently launched its 2022 Advent Calendar, containing 24 tea lights in four delightful, festive fragrances!
The Scented Tea Light Advent Calendar contains:

• Coconut Snowball consists of a creamy coconut macaroon accord with supporting floral tones and a base of vanilla, tonka, cedar and nuances of caramel.

• Festive Wreath is a fresh clean winter fir fragrance enriched by Siberian pine needles, cool spruce, green leaves, precious woods and hints of frankincense.
• Winter Garden, a refreshing green herbal fragrance where armoire, coriander and cardamon refreshed by lemon and elemi rest upon a heart of thyme, sage and pinewood, with a base of amber woods.
• Mistletoe Kisses is a festive herbal delight with hints of mistletoe, fresh spruce, fir, ice cool mint and green leaf with fruity accents and a fresh floral heart of jasmine, lily, patchouli, cedar, sandalwood and amber
The calendar retails at just £3.99 and can be found exclusively in B&M stores.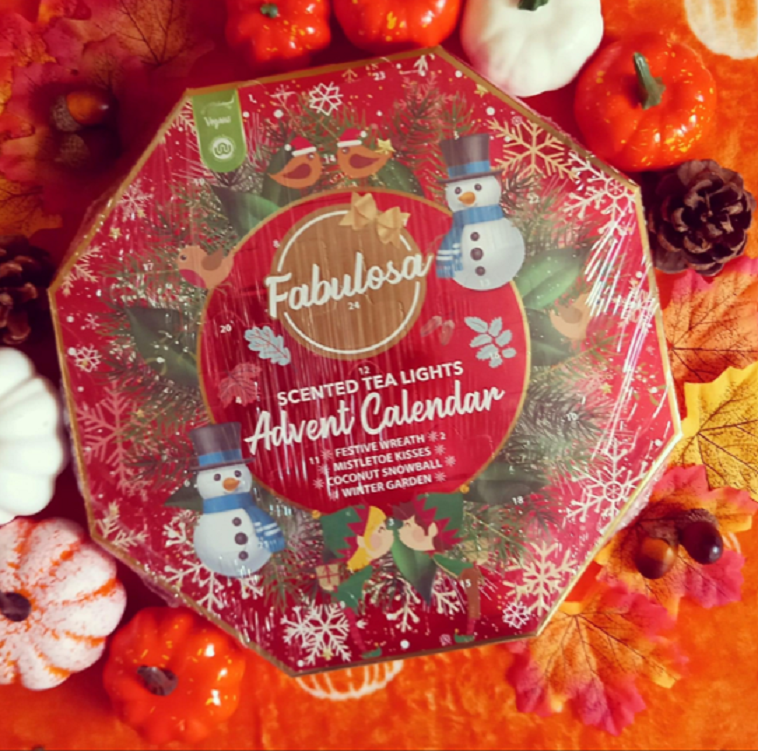 What Did We Think?
Great way to keep your home smelling deliciously festive this Christmas.  Fabulosa have become super popular this past few years, scenting the home with cleaning products.  This is makes a lovely gift too and super affordable, very much worth the price tag.  We imagine these will sell out super quick.
*All of the above products were gifted to Shropshire Mums free of charge in return for our honest, unbiased comments and opinions.
---