Advent Calendars Galore
Christmas 236
Added by: Shropshire Mums on Thu Nov 18 11:19 2021
Still searching for the perfect advent calendar? Checkout our guide to some of this years offerings.
Organix Toddler Advent Calendars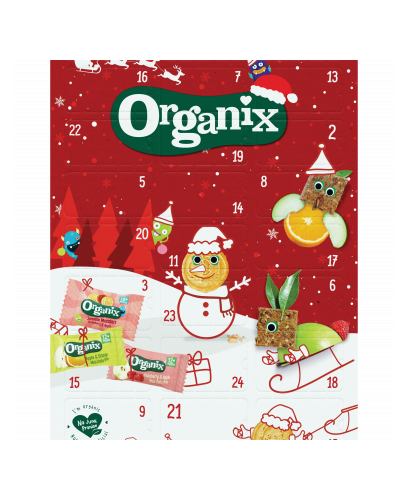 Ho, ho, ho! Organix have created the ultimate advent calendar for toddlers and kids 18m+. An organic, non-chocolate advent calendar alternative for happy healthy kids.
Behind each door of the toddler advent calendar, your little elves will find one of their favourite Organix snacks, either a Mini Raspberry & Apple Oaty Bite, a Apple & Orange Oaty Bite or a scrummy Jammie Monster biscuit.
Like all Organix toddler snacks, you will find absolutely nothing artificial in the Christmas treats. Sleigh, what?! Yep, that's the no Junk promise.
Our Verdict
The Organix advent calendar provides the perfect healthy snack advent calendar. Packaged in a lovely big bright and colourful red box with big opening doors. The calendar contains all the favourites from the Organix range and its lovely see a healthy alternative offered to toddlers. A little more pricier than your average basic chocolate advent calendar, however the contents are of course higher in value.
---
Haribo Advent Calendar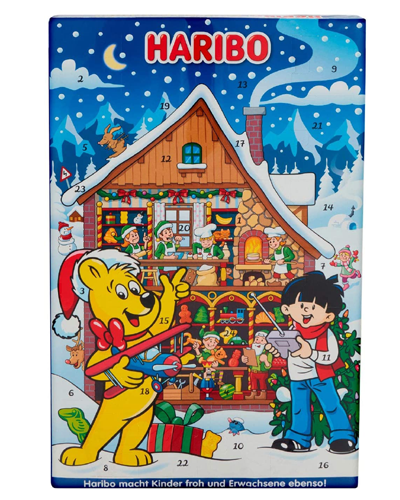 Themed, fun and perfect for those looking for an alternative to the traditional chocolate calendar! This tasty advent calendar brings together Haribo favourites from across the world including Tropifrutti, Goldbears and MAOAM.
Our Verdict
It is a very true saying, kids and grown up's love them so. What beter way to wake up than to a sweet Haribo treat every morning in December. We always love the Haribo advent calendar, it's bright and cheerful and contains some of the nations favourite sweets and something different each day.
---
Barbie Dreamtopia Advent Calendar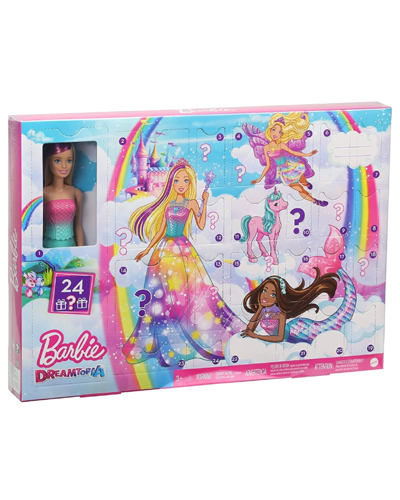 The Barbie Dreamtopia Advent Calendar comes with 24 gifts for a magical Christmas time. Open the first door to unbox your Barbie doll, then countdown to Christmas with a different surprise each day.
Open a door each day, revealing fashions and accessories to dress your Barbie doll as a princess, mermaid or fairy. Every new surprise unlocks magical storytelling possibilities. The Barbie Dreamtopia Advent Calendar includes tiaras, necklaces, animals, tea party accessories and more.
Kids will love uncovering new surprises every day of the Christmas season with the Barbie Dreamtopia Advent Calendar. Because when kids play with Barbie, they can become anything they imagine!
Our Verdict
To be honest if you can get your hands on one of these you will be very lucky, stocks are in very short supply which is no surprise. This really is a lovely advent calendar and perfect for any Barbie loving fan. The Barbie itself is as you would expect from Mattel great quality as are the various accessories you will find behind each door. These would definitely be top of our list for any Barbie fan.
---
Melissa and Doug Countdown to Christmas Wooden Advent Calendar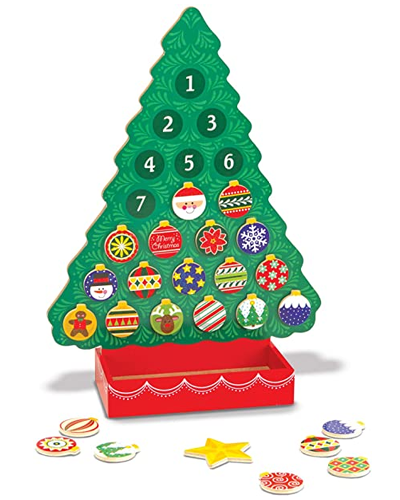 Add some kid-friendly Christmas cheer and a charming yuletide ritual to your home with this wooden magnetic advent tree! The set includes 24 magnetic ornaments plus a shining star for Christmas day–all of which fit neatly in the attached box at the base of the tree. Kids can pick a favourite design to place on the tree each day, following the numbered outlines to fill the tree right up to Christmas. They'll also love to switch, move, and rearrange the pieces to customize their very own tree countless times.
Decorating your Countdown to Christmas Wooden Advent Calendar will not only become a highly-anticipated annual tradition, it can also be a great way to help promote and reinforce many developmental skills as children grow. Use the numbers on the tree to help young children with number recognition and to learn to count both forwards and backwards; as they get older, ask children to add the numbers in a row. Play games with the ornaments to help develop colour recognition and memory skills. For example, have kids find all of the ornaments that have red but no green or name all of the colours on individual ornaments. Or, ask them to choose five ornaments and study them carefully; then, have them to close their eyes while you remove one ornament. Can they guess which one is missing? The learning possibilities are endless!
For more than 30 years, Melissa & Doug has created beautifully designed imagination- and creativity-sparking products that NBC News in the US called ?the gold standard in early childhood play.? We design every toy to the highest-quality standards, and to nurture minds and hearts. If your child is not inspired, give us a call and we'll make it right. Our phone number is on every product!
Our Verdict
We love anything Melissa & Doug, you always know you are getting great quality, well thought out playability yet simplistic.The advent calendar is no exception and perfect to bring out each year making this a great, sustainable advent calendar.
---
Bonne Maman 2021 Limited Edition Advent Calendar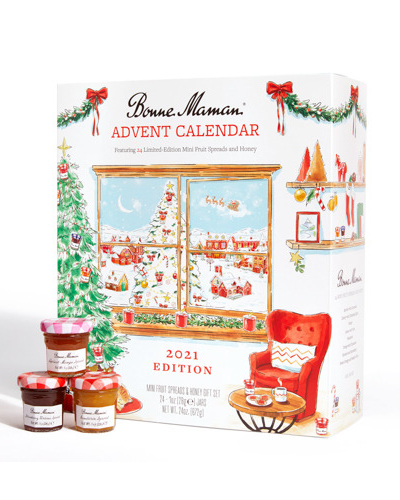 Add lovely vibrant colours and delicious flavours to your Christmas this year with the new Advent Calendar from French conserve specialist, Bonne Maman.
The perfect way to say Joyeux Noel to loved ones during the holiday season, the calendar contains 23 adorable mini jars of jams and marmalades - each one offering an exclusive fruit variety or unique flavour combination - concealed behind every door, plus an extra special surprise gift on Christmas Eve.
Providing a delightful surprise fruit conserve to add delectable colour to every breakfast or tea through December, the 30g mini jars include a range of exciting flavours not usually available in the UK, such as Apricot and Mango Jam; Cherry and Elderflower Spread; Lemon and Yuzu Marmalade; Raspberry and Redcurrant Jam; White Nectarine and Peach Jam; Fig and Cardamom Jam; Mango, Peach and Lime Jam; Sweet Orange & Passion Fruit Jam; Apricot and Lavender Spread plus many more.
Our Verdict
The iconic red and white lids of Bonne Maman and beautifully shaped jars are an absolute delight. We absolutely love this advent calendar, what a wonderful way to start your day every day throughout December than with a different flavour jam for your toast or porridge. Each little jar gives you enough to share between a few of you each morning. We love the Christmas eve surprise too - but we will keep that as a surprise for you!!
I strongly encourage you to make use of recycling the little jars too, use them for storage of little nik naks or why not keep them until next year and use them to make your own advent calendar filling each jar with a little treat.
Definitely one of all all time favourite advent calendars.
Available direct from Bonne Maman and also Amazon
---
Magic Advent Calendar from Trends UK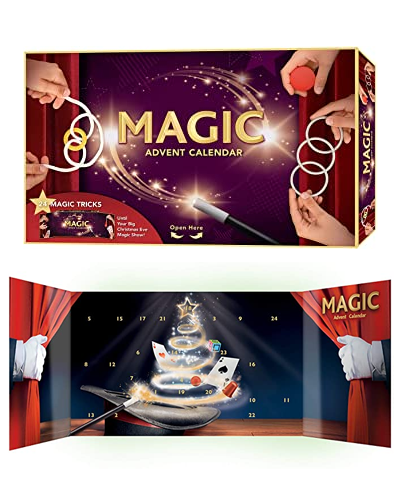 Christmas will be truly magical with the Magic Advent Calendar. Every door opens to a new magic trick that you will master in no time thanks to the illustrated step by step instructions. On Christmas day you can amaze your audience with a spell-binding show featuring all the 24 cool magic tricks you have mastered through December. Suitable for ages 6+.
Our Verdict
This amazing advent calendar is a fantastic idea for children over 6 years of age. Each day they find a new trick to master resulting in a whole range of tricks to enable them to put on a whole magic show. The advent calendar itself also opens out to provide a stage background for the show.
Each trick is great quality, simple to learn and will provide plenty of entertainment for the family. So many advent calendars these days can be quite throw away products so it's great to see something that can be kept and enjoyed. The other great thing with this is it encourages family interactivity and entertainment. What a great way for you and your child to spend family time on Christmas eve than with your own family magic show.
---
Lily O'Briens Chocolate Advent House
This magical Keepsake Advent House contains 28 chocolates and makes a beautiful gift for Christmas.
Each Advent Calendar contains an assortment of Lily O'Brien's most popular chocolate recipes, including;
- Sticky Toffee: Sweet smooth caramel smothered in milk and dark chocolate.
-LeCrunch Chocolat: Buttery crispy crumbs of caramelized French Biscuits mixed with our creamy milk chocolate to create our uniquely scrumptious LeCrunch Chocolat.
-Honeycomb Crispy Heart: Crunchy honeycomb pieces smothered in Lily O'Brien's uniquely delicious milk chocolate.
-Sultana and Crispie Clusters: Sweet Sultanas mixed with Crunchy Crispies covered in luscious Lily O'Brien's Milk Chocolate.
An online exclusive available for a limited time only.
Our Verdict
This has to be one of our favourite chocolate advent calendars, not only does each day contain at least one amazingly delicious chocolate from the famous Lily O'Briens range but ut us all presented in a beautiful ornate display case that is totally reusable each year. In fact we still have our advent house from a few years ago and refill it each year with a selection of our choice.
Delicious chocolate presented in a totally reusable packaging to refil with your favourites each year, whats not to love!!
---