Celebrating The Jubilee in Style
Occassions 102
Added by: Shropshire Mums on Tue May 24 12:58 2022
The big Royal Jubilee Bank Holiday celebration is almost upon us, however you are celebrating we are sure there will be some red, white and blue on display.  Buyers, designers and manufacturers have been busy preparing merchandise and accessories to celebrate and commemorate the big day and we've been taking a look at what's out there....
For The Kids
Toucan Craft Boxes
Each box is designed to encourage creativity and learning. The monthly subscription service is aimed at children 3-18 years old and packed full of educational materials, such as coloring, crafts, and puzzles.
The special ROYAL JUBILEE CROWN & FINGER PUPPET CRAFTS Box Celebrates the Queen's Platinum Jubilee with a royal street party! With their very own crown this will be a momentous and unforgettable occasion. Make, decorate and play with your very own bejewelled crown, then perform prince and princess finger-puppet plays.
Royal Crown & Finger
Enjoy royal roleplay! Create a glittering bejewelled crown, then perform a regal re-enactment with colour-in prince and princess finger puppets £10.95
To celebrate the Queen's Jubilee all subscriptions are currently 50% off!!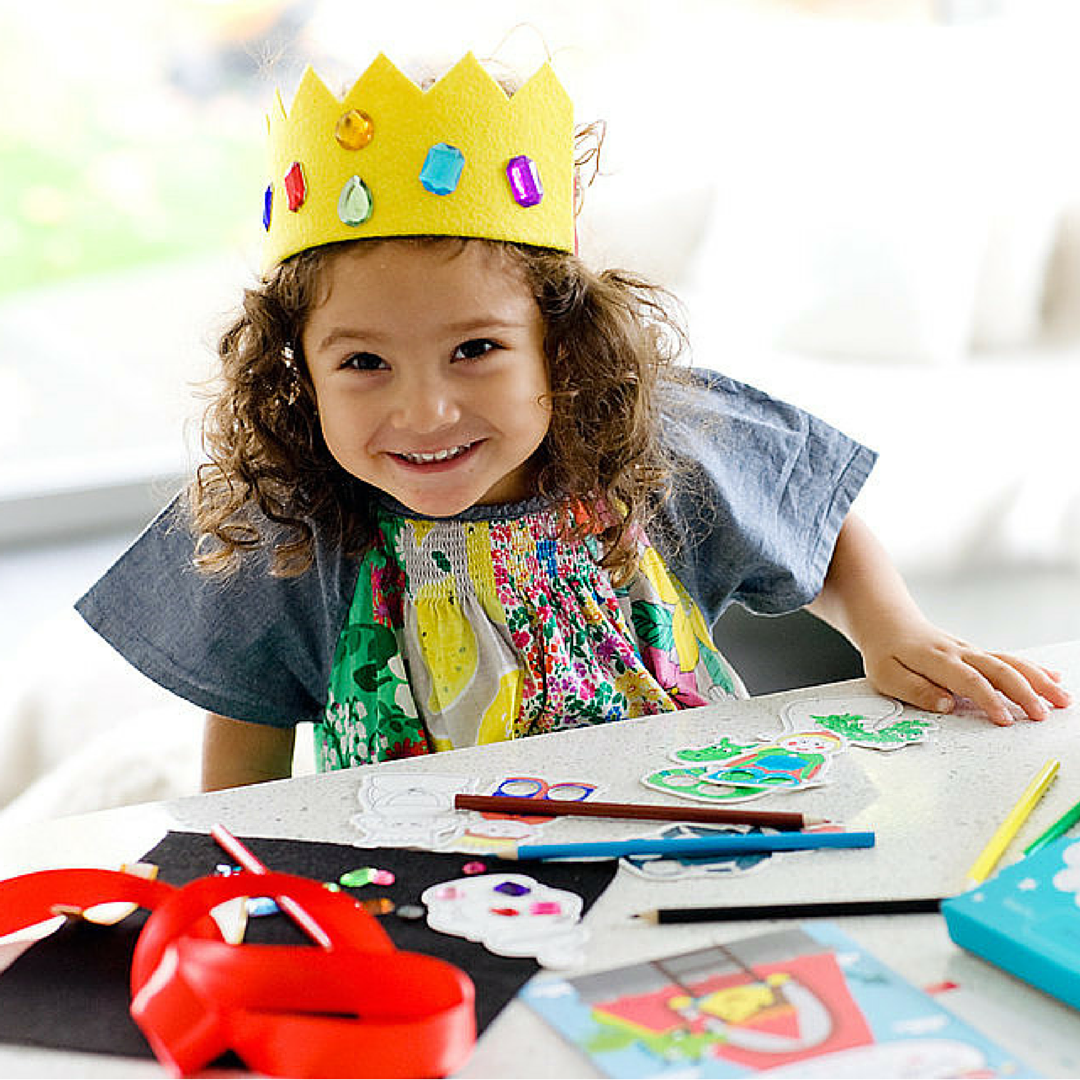 The Helper Play Kit
Encouraging little ones aged 2+ to be involved with any Jubilee celebrations, have them dress the table with felt flowers, encourage them to help with any washing up after celebrating using the sustainable sink with running water, bake treats together with the muffin bake book, or design the table plan and create artwork using the washable paint sticks, along with games and other fun bits
RRP £120,
Crayola Large Craft Chest
This large Craft Chest by Crayola is a fantastic box of goodies that will deliver hours of fun, day in day out.
The box contains an abundance of bold and vibrant craft accessories so children from the ages of 4+ will quickly be bursting with imaginative ideas, keen to get started on their creations.
The generously sized plastic box has a comfortable handle making this box easy to carry around and it contains craft sticks, pom-poms, tissue, coloured paper, card, beads and chenille stems.
There is certainly enough to keep the little ones occupied over the school holidays, on a rainy day and whenever they need to express themselves. Full of goodies that will deliver hours of fun, day in, day out.
For children 4+
Contains over 1200 pieces
100 craft sticks
6 poly shapes
40 wiggly eyes
86 foam shapes
800 sequins
50 pom-poms
10 sheets of tissue
10 sheets of coloured paper
4 sheets of white card
70 pony beads
60 chenille stems
*contents may vary
RRP £9.49 - Crayola Large Craft Chest (ryman.co.uk)
FOOD & DRINK
Milk Chocolate Praline Foiled Hearts
A delicious selection of chocolate hearts filled with creamy, crispy hazelnut praline.
£25, farhi.co.uk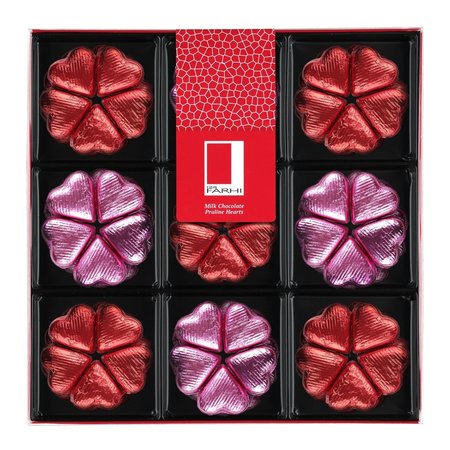 Gold Sugared Almonds
Gloriously golden metallic sugared almonds, perfect for any Jubilee party or gathering across the long weekend
£20, farhi.co.uk 
DRESS FOR THE OCASSION
Mavala Platinum Jubilee Celebration Nail Polish Trio (3 x 5ml)
To help the UK celebrate the Queen's Platinum Jubilee, Mavala has put together this trio.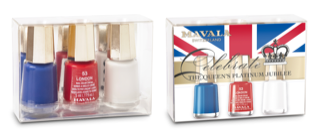 Rachel Riley is a British award-winning children's clothing brand.
Designers of classic luxury childrenswear, best known for quality & style, with prints designed in-house, traditional craftsmanship including hand embroidery, hand smocked & use of fine soft fabrics.  It's no secret the smallest members of the Royal Family have often been seen out sporting clothing from the Rachel Riley range so what better way to dress your children this Jubilee than in non other than clothing well and truly fit for Royalty.
The full range can be viewed here Rachel Riley Jubilee Collection
Here's a few of our favorites:-
Stamp Bow Dress
New! Perfect dress to celebrate Queen's Platinum Jubilee this year and have fun wearing every summer. Classic cotton style with retro stamp print, ideal for little adventurers!
Matching item shirts & babygrows also available for boys and baby. 100% Cotton
£69.99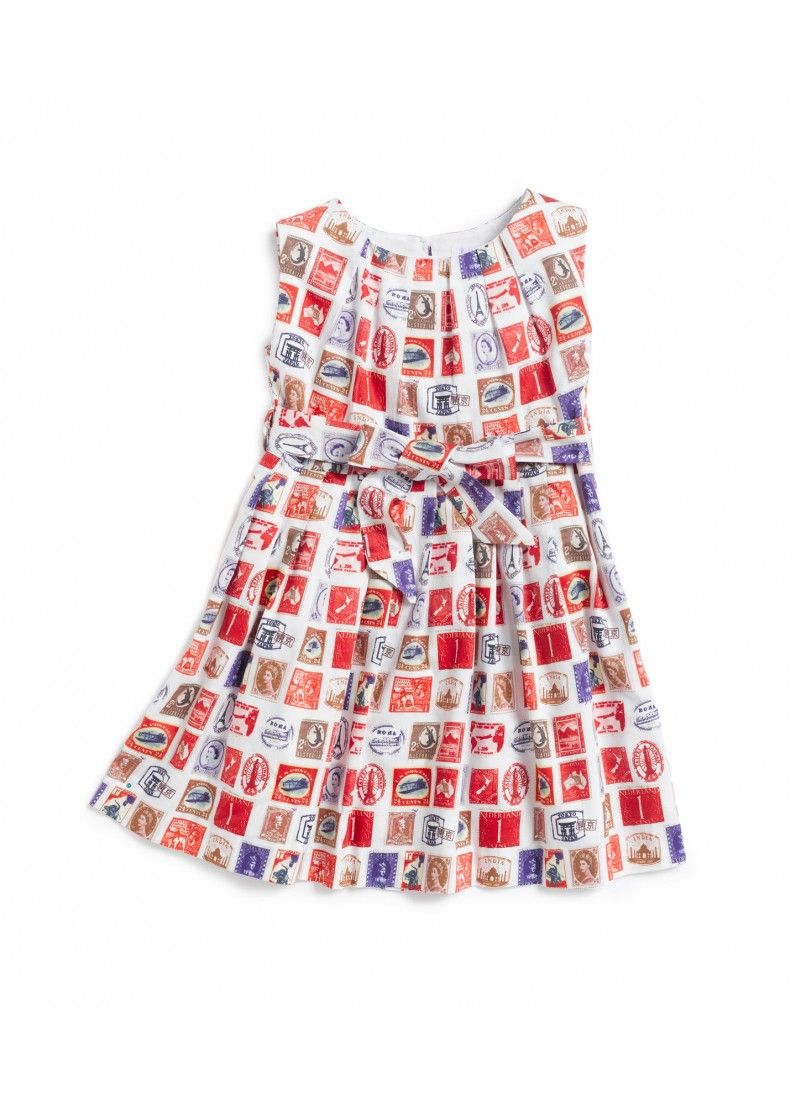 Royal Tea Party Dress & Bloomers
Soft interlock jersey dress with our signature peter pan collar and half button placket, with a royal tea party themed print and coordinating red picot trim. Comfy and easy to wear with matching frill trimmed bloomers!
Print also available for older girls. babygrows and shirts for older boys.
100% cotton - Exclusive Rachel Riley print!
RRP £49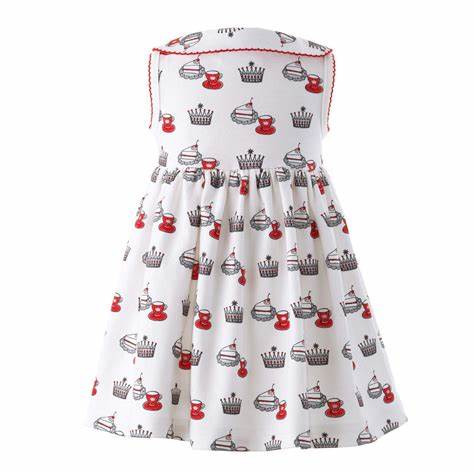 Princess Crown Embroidered Babysuit
Ivory cotton babysuit for girls with crown embroidery on the front bodice, and pale pink piping at the collar, sleeves and legs. It has a round shape for ease of movement, and pearl effect buttons to fasten at the back and legs for easy changing.
Matching babysuit for baby boy, 100% Cotton - Machine wash with similar colours
RRP £75
Home Decor & Party Wear
Jubilee Large Party Bundle
If you're looking for Jubilee party decorations and accessories then look no further! Check out this amazing Jubilee Large Party Bundle, featuring everything you need for your Platinum Jubilee celebrations!
This great bundle contains a huge selection of Union Jack themed decorations including cups, a table cover, napkins, balloons, face paint, a flag, paper chains and bunting, all great additions to your street parties and get-togethers!
Wonderful for both indoor and outdoor extravaganzas and easily disposable meaning no washing up and easy tidy up afterwards! Turn your home, garden or street into an eye-catching Jubilee masterpiece with these brilliant, striking decorations to mark every celebration.
Make sure you're ready to celebrate the Queen's Platinum Jubilee in style!
Jubilee Large Party Bundle includes:
Jubilee GB Flag Cups Pack of 8

Jubilee GB Flag Paper Table Cover

Jubilee GB Flag Napkins Pack of 16

Jubilee Balloons Pack of 18

Jubilee GB Flag 0.9m x 0.6m

Jubilee Paper Chains 12ft

Jubilee GB Flag Bunting 5m

Jubilee Union Jack Face Paint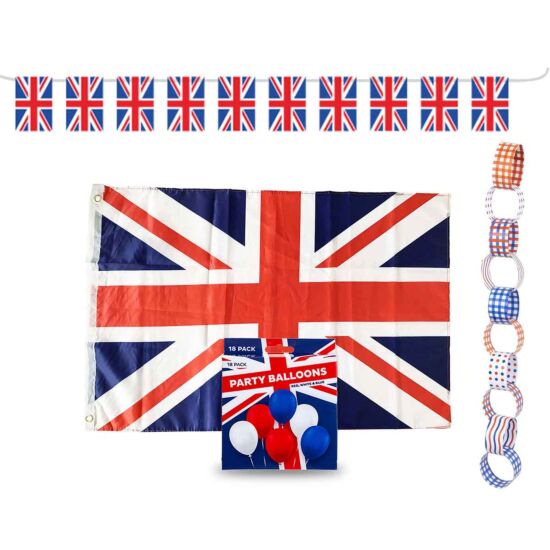 £15.99 - Jubilee Large Party Bundle (ryman.co.uk)
---