Easter 2021
Occassions 139
Added by: Shropshire Mums on Tue Mar 30 22:56 2021
As lockdown in the UK slowly eases the majority of attractions and venues are still closed over the Easter period. Therefore as per 2020, 2021 will see most of us making the most of Easter fun once again at home.
We've taken a look at a few little treats to make the Eggcellent Bank Holiday weekend that little bit more Eggcellent!!!
---
Cadburys Easter Range 2021
Let's face it - the highlight of Easter morning is cracking into that first delicious mouthful of your prized Cadbury chocolate Easter egg. Browse the massive selection of Cadbury Easter eggs to find all your favourites, from classic Wispa, Twirl and Creme Eggs, to Dairy Milk Buttons, Mini Eggs, Roses and more. Treat the entire family to the Easter chocolate they love, with a wide range of small and large Easter eggs with a variety of flavours and fillings. Shop online for fast next-day delivery, and get your eggs delivered straight to your door.
---
Haribo Chick N Mix
The perfect alternative to chocolate this Easter. Haribo's chick n mix boxes come in various pack sizes and feature a range of some of haribo's top selling favourites in Easter themed shapes.
---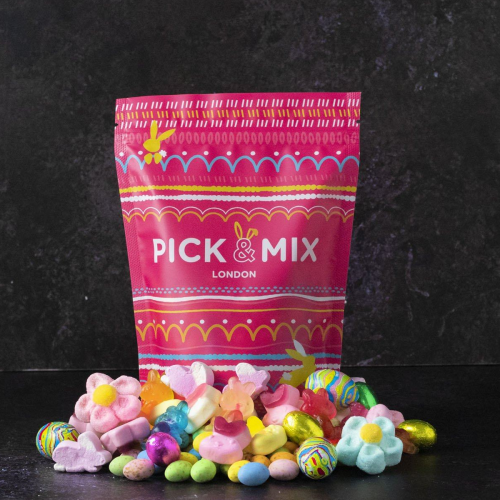 Pick N Mix London Easter Mix
Pick & Mix London are on a mission to become the UK's favourite online sweet shop! With a range of classic Pick & Mix sweets including vegan and vegetarian sweets you can buy any sweet individually or create your own bundle and get it delivered to your door the next day.
The Easter pouch is filled with a mix of the favourite Easter-themed treats. The perfect way to stage an Easter Egg hunt at home, or to send to a loved one you can't be with this year. Great for those who get sick of just having Chocolate!
Prices start from £9.99 per 500g bag
---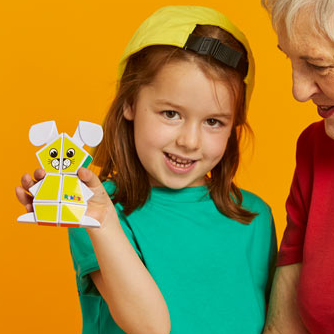 Rubik's Junior Bunny
The Rubik's Junior Bunny is the ideal puzzle for little problem solvers. The cute twistable character is so easy to grip and turn. Twist the blocks to create a crazy mixed-up animal, but with relatively few combinations
Twist and turn the Rubik's Junior Bunny to create a wacky mixed up character, then keep twisting and turning until you solve the puzzle and turn it back into its original state. A new kind of Rubik's challenge! Suitable for ages four and above.
---
Nuzzy Luv's - Luvbug
Introducing Nuzzy Luvs the super soft new-born pets that snuggle right into your hand! Nuzzy Luvs will respond to a child's voice and touch by making cute sounds and movements.
Pet them or whisper sweetly, and Nuzzy Luvs will turn their heads, blink their eyes, and respond with cute animal noises!
Each Nuzzy Luv has its own reactions, and has a combination of sounds and movements! A total of 8 different characters to collect.
---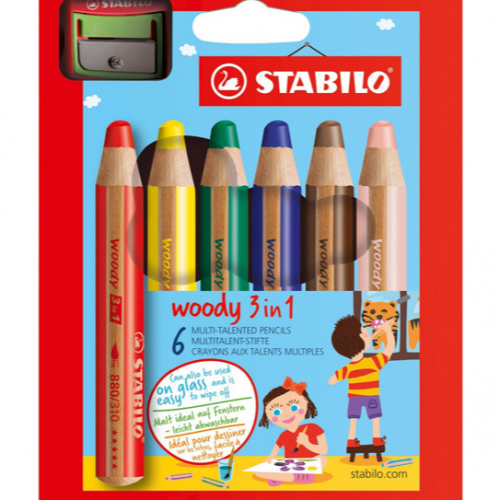 Nuzzy Luv's - Luvbug
The STABILO woody 3 in 1 is perfect for kids to draw and paint and ideal for parents too – it washes off windows and is suitable for many surfaces besides just paper or cardboard. STABILO woody 3 in 1 is a range of 18 colouring pencils that also function as wax crayons and watercolours, making them ideal for aquarelle work. They offer vibrant colour intensity and opacity and even work on dark paper. STABILO woody 3 in1 pencils are long lasting, as the large 10mm lead contains as much colour as eight standard colouring pencils. The STABILO woody is so versatile it can even complement the more mature artist's toolkit.
---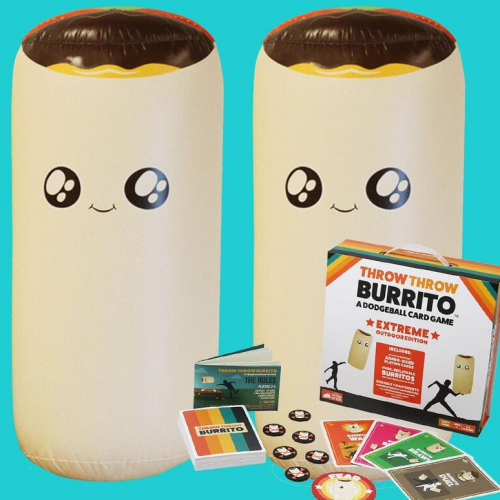 Throw Throw Burrito by Exploding Kittens Extreme Outdoor Edition
From the creators of Exploding Kittens, Throw Throw Burrito Extreme Outdoor Edition is the world's first dodgeball card game!
Now EXTREME!
Try to collect matching sets of oversized cards faster than your opponents while simultaneously ducking, dodging, and throwing 3-foot tall inflatable burritos. The cards you collect earn points, but getting hit by flying giant burritos loses them
Clear some space and go outside, because you've never played a party game quite like this before. Rack up points by finding sets of three in the deck. Find matches before anyone else does
Steal points from your opponents by hitting them with giant inflatable burritos. Declare war on your friends, brawl it out with a neighbor, or duel to determine the winner
For 2-6 players. Includes 120 over-sized cards, 7 plastic tokens, and 2 GIANT 3-foot tall inflatable burritos!
All cards featuring hilarious illustrations by Matthew Inman of The Oatmeal
---
Wrendale Daisy Chain Jar Candle
This Daisy Chain Jar Candle features a charming Wrendale Illustration, will burn for 40 hours, and is filled with fragrance reminiscent of days spent in the British countryside.
This Meadowsweet and White Lilac fragrance will remind you of an afternoon stroll through woodland, filled with the scent of meadowsweet, blossoming lilac, and sunkissed green leaves, as the breeze brushes against the petals and trees.
Featuring a charming character illustration by Hannah Dale, this Daisy Chain ceramic jar candle oozes charm and reminisces on days spent in the countryside.
This Wrendale home fragrance collection pairs some of Hannah Dale's most classically British illustrations with quality ceramic designs and bespoke fragrances.
---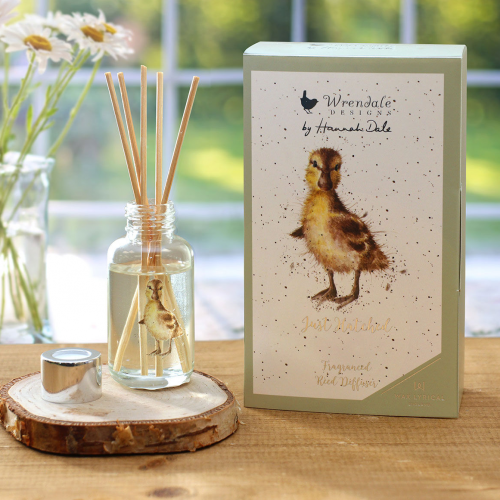 Wrendale Just Hatched 40ml Reed Diffuser
Fill your home with fresh and floral fragrances of the outdoors with this gorgeous 'Just Hatched' reed diffuser from Wrendale. Illustrated with a delightful image from artist Hannah Dale, this elegant reed diffuser will look lovely on your shelf or mantlepiece and it is guaranteed to add a touch of quintessential British country charm to your home décor.
Printed on the bottle is a wonderful illustration of an adorable ducking painted in soft watercolour tones, in the signature style of Wrendale Designer, Hannah Dale. The ducking is still super fluffy and is looking directly at the viewer, intrigued by the new world around her. Around the bird are interspersed speckles of black paint, in a way that is very synonymous with the Wrendale brand.
The set includes 5 pale wooden diffuser reeds and a glass bottle of 40ml fragrant oil which has a silver lid. Once the reeds are inserted into the fragrance bottle they draw and diffuse the fragrance. Ideal for window sills, bathrooms, or living rooms, it is the perfect sleek and stylish fragrance accessory for your home. The fragrance features floral top notes of pink pepper and neroli that blend beautifully with the heart notes of jasmine, lilac and meadowsweet. The scent concludes with musky base notes of ylang-ylang, amber and sandalwood that give the fragrance a beautiful bouquet of aromas.
---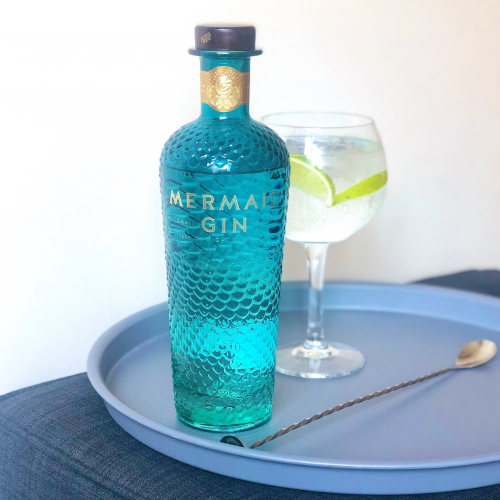 Mermaid Gin from The Isle Of Wight Distillery
Rooted in the natural landscape of the unique Isle Of Wight island you will find the Isle of Wight's first and only distillery. Founders Xavier and Conrad and their small team distil spirits shaped by the stunning surroundings, and the unique character of the island. Doing things differently, minimising waste, using ethically sourced and often local ingredients to craft a range of smooth, complex spirits. 
As part of the distillery's commitment to sustainability, conservation and a circular economy, they are proactive in helping to protect the island's marine environment. They have adopted a progressive and sustainable approach - gradually eliminating plastic from their packaging and supply chains, while using biodegradable materials wherever possible.
Inspired by the island's setting, they use ethically sourced and local natural ingredients. Rock Samphire is foraged from the shoreline, Boadicea hops are harvested from Ventnor Botanic Gardens and elderflower is handpicked from local fields, while strawberries are grown in the lush and sun-soaked Arreton Valley.
---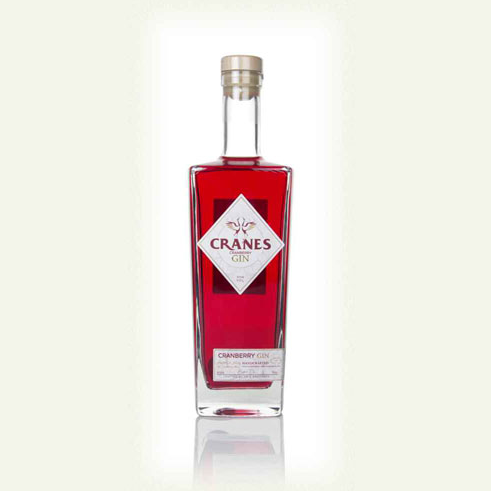 Cranes Cranberry Gin
Cranes award-winning Cranberry Gin is smooth and fruity yet delightfully sharp.
The Cranberry Gin is made from premium cranberries and handcrafted in Cambridgeshire in small batches. The cranberries compliment the junipers perfectly, providing a smooth and fruity, yet deliciously sharp taste. A must-try for any Gin enthusiast!
Like all Cranes products, the Cranberry Gin is made from all natural ingredients. Using no added sugars or artificial flavours. Resulting in them being gluten free and vegan friendly.
Over 50 of the finest cranberries go into creating one 70cl bottle.
At 37.5% VOL and deliciously sharp, Cranes Gin creates the perfect Gin and Tonic.




Jelly Drops Tasty Treats - Great Easter Treat for Dementia Sufferers
When Pat, founder of Jelly Drops Lewis's grandma, was rushed to hospital with severe dehydration, they were told to prepare themselves for the worst. Pat, who had dementia, spent 24 hours on IV fluids in hospital before thankfully making a full recovery. Lewis was left wondering how something so small could have a potentially life-threatening impact. Read Full Review
---