Great Resources For Educating & Entertaining The Kids During School Closures
Added by: Shropshire Mums on Sat Mar 21 17:40 2020
We have tried to compile a list of resources to keep Children busy over the coming weeks... months ???
Your child's school will no doubt recommend tools, set your children work packs and provided resources so they can keep up with the National Curriculum, however these extra tools can help give your child's learning a boost and provide variety while they're out of school.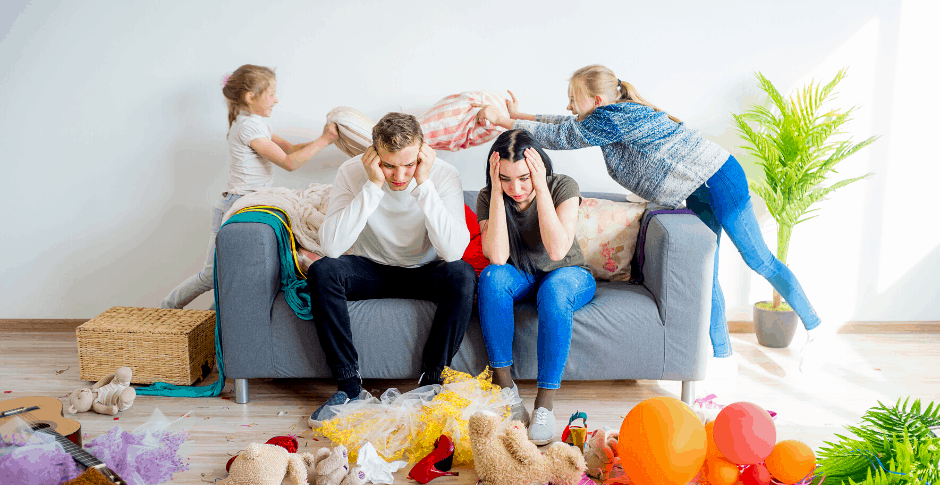 1. BBC Bitesize - Fantastic resources for kids of all ages, covering all subjects..
There's material here for kids of all ages, from reception all the way through to A-levels. It covers every subject your kids are currently studying, and as the name suggests it's all presented in small, easily digestible chunks.
The activities and videos here are all tailored to support the National Curriculum, so you can be confident that your kids are covering the same material they would in class, with different content tailored for England, Scotland, Wales and Northern Ireland. Once they've completed a particular section, they can test their knowledge with an interactive quiz to make sure it's stuck.
It's great stuff, and will help them prepare for whatever coursework or remote exams they'll need to complete in the coming months – and it's all available free. There's even careers advice available if your kids are in their final year, plus a support hub packed with advice from students and teachers.
---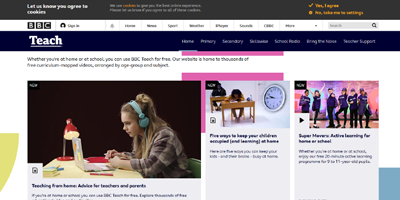 2. BBC Teach - Live and pre-recorded video lessons from popular BBC presenters ...
There are lots of excellent learning resources available on YouTube, but separating the gems from the junk can be a huge task. With BBC Teach, you can be confident that every video your kids watch is well made and worthwhile. Forget the old BBC Schools programmes you might remember from your childhood (when the teacher would wheel out the old CRT TV on a trolley) – things have come a long way.
There are tie-ins with BBC series like Doctor Who, Springwatch and Blue Planet, and many of the videos are hosted by well-known BBC presenters who are skilled in holdings kids' attention and making even complex topics fun and accessible.
You can watch without logging in, but signing up will allow you to keep track of which videos have already been watched
---
3. Khan Academy - Great online lessons – particularly for maths and science subjects ...
Khan Academy is a US-based site, and is structured around the American school system, but it's packed with a huge amount of content that crosses over with the National Curriculum in the UK.
The arts and humanities content is quite different to what your kids would be taught in their own classrooms, but science and maths travels well, and the material on algebra, trigonometry and calculus are particularly good (especially if you're a little rusty yourself).
All content on Khan Academy is free to use, though it's a good idea to sign up for a free account so your kids can keep track of their progress. There are also mobile apps available for iPhone and Android, which they may prefer to the desktop site
---
4. Duolingo - Free language lessons, with content tailored for kids...
You might think of Duolingo as mainly a tool for adult learners who want to pick up a new language, but it also has lessons specially designed for school kids, which can really support their modern language classes.
While its desktop site is a handy starting point, Duolingo's real selling point is its excellent mobile app (for iPhone and Android). It starts by assessing your kids' current fluency, then helps them develop their skills by introducing words and phrases, with regular quizzes.
Duolingo covers both spoken and written conversation, and its quick, bite-sized lessons and instant feedback make it convenient and rewarding to use. It's free too, which is truly remarkable.
---
5. The Artful Parent - Scores of creative projects for younger children ...
Learning at home doesn't have to be all about staying in front of a screen; The Artful Parent is a site packed with fun craft ideas to get your kids thinking creatively. Many of them are well suited to younger children, and are fantastic if your little ones are starting to get bored or anxious.
Whether it's observational drawing, making sculptures from leaves or making your own playdough, each project includes a list of materials, ways to gently engage your child, and suggestions for follow-up activities.
There's also advice on how to encourage creativity and confidence – skills that will serve them well in all their academic subjects – and ways to encourage them if they're reluctant to start.
---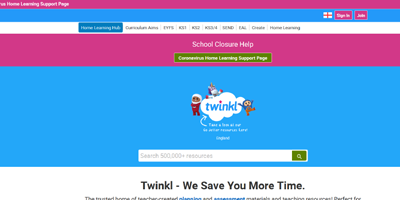 6. Twinkl - Packed full of teacher trusted Primary resources...
Usually a paid resourse, Twinkl not only created home learning and school closure packs, but have also introduced an offer for all of them to be completely free. Whether you're a teacher, parent or home educator Twinkl have put together a simple, step-by-step guide about this offer of help, for you to use. This guide is not designed to override or replace any official guidance, but is intended to advise on using the Twinkl website during this period.
---
7. Education City - 21 day free trial...
EducationCity has been inspiring children and teachers in the classroom since 1999.
Resolutely remaining faithful to their commitment to produce unparalleled educational experiences based on highly engaging, pedagogically exceptional content, Education City are dedicated to creating new and imaginative ways of delivering curriculum content. Their resources have been recognised with awards from the education industry and adoration from children as a result.
Today, EducationCity is used by children and their teachers in over 75 countries around the world, including mainstream primary schools, secondary schools, special schools, international schools and even with children for whom English is an additional language.
---
8. ABC Mouse - 30 day free trial....
ABCmouse offers a full online curriculum for children ages 2 through 8. There are over 9,000 activities spread between reading, math, science, arts colours, and you can do it from anywhere. The website can be access via a computer, and ABCmouse offers mobile and tablet apps for iOS and Android.
There are 10 different levels with over 850 lessons for your kids to complete. It's interactive to help keep your kids wanting to do more, and ABCmouse has a "tickets and rewards" system for the little ones to make it a bit more like a game instead of just straight learning.
With the reading curriculum kids will learn the difference between uppercase and lowercase letters, phonics, sentence structure, and more. For math, kids will learn numbers 1 - 120, place value, addition, and subtraction. Science and social studies lessons help teach kids about body health, maps, the solar system, and more. For arts and colors, ABCmouse goes over shades of colors, primary and secondary color differences, number and letter dot-to-dot activities, and lots of other activities.
You can get started with ABCmouse for free using the 30-day trial, or you can sign up for an annual subscription and save 49% right now.
---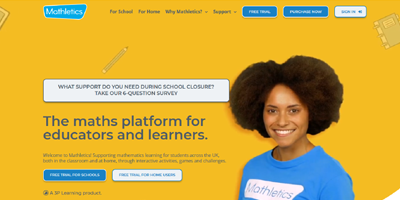 9. Mathletics - Free trial...
3P Learning is a global leader in online education. The award winning suite of learning resources is designed for schools and families, covering mathematics, spelling, literacy and STEM. Headed by a global team of passionate education and technology gurus based all around the world.
---
VIRTUAL ONLINE TOURS .....
The British Museum
Musee Dorsay Paris
Blarny Castle
US National Parks
Disney Park Virtual Tour
OTHER USEFUL RESOURCES...
Home Education.org
A2Z Home Schooling
Freddies Mummy
If you have something interesting you have found to add to this article please feel free to get in touch.. info@shropshiremums.com
---