Keeping The Kids Entertained During The Summer Holidays
Lifestyle 202
Added by: Shropshire Mums on Thu Jul 28 13:55 2022
The big School Summer Holidays have arrived once again and keeping the kids entertained dosn't need to be a huge task and equally dosn't need to break the bank either....
If you are looking for events and activities in and around Shropshire you can head over to our SCHOOLS OUT FOR SUMMER EVENT GUIDE sponsored by HOO ZOO

Or if you are looking for inspiration for free activities at home and around your local area... why not try out some of the below suggestions:
1. Go Geocaching 
This is a brilliant way to explore new parts of your local area with the kids. Geocaching is essentially a modern-day treasure hunt: simply download the free app and follow the directions to the nearby location, to then find and log the hidden geocache. We have so much beautiful Countryside here in Shropshire and this is a great way to explore.
2. Become 'Mad Scientists' in the kitchen 
It is really easy to make fun science experiments with ingredients found in the kitchen. Mix cornflour and water to make slime, or drop food colouring onto baking soda, and use a straw to drip white vinegar to create a bubbly volcanic eruption.  If you plan in attempting the mentos in the bottle of coke, we recommend moving outside for that.
3. Visit free local museums 
It takes just a quick look online to find many nearby museums with free entry which cater to families. Explore history, science, and culture during the bad weather, and take part in the free interactive events which many museums put on for kids. Shrewsbury Museum and Art Gallery are just one of the fantastic free to visit Museums we have right here in the heart of Shropshire and always have additional activities throughout the summer holidays.
4. Potato stamp art 
A great way to use up any old potatoes, stamp art is a fun entertainment for the kids at home, completely for free. Just cut the potato in half (or anything else in the cupboard needing to be used up), cover with paint, and let the kids create their artwork. For older ones, let them carve out a shape in the potato for a patterned veggie stamp.  Why not pin a huge paper muriel on the garden fence for the kids to decorate.
 5. Free local events 
Check the local council website  for kid-friendly entertainment, such as crafting, library and sports days. Especially during the summer holidays, engaging with the local community in these events is a great way to do something different for free. 
6. Obstacle course
Be inventive with things around the house! Use buckets, mops, tin cans and chairs to set out an obstacle course for the kids to let off some energy. A low prep, but highly entertaining activity inside or out with endless opportunities.  Why not meet up at the local park with other parents and child and make a giant course.
 7. Home cinema 
Amplify those cosy film nights on the TV with fort making: use pillows and blankets to create a free evening-in with the kids. Grab popcorn and sweets from the cupboard for a no cost cinema experience at home.  And remember theres nothing like introducing the kids to some old classics either.
 8. Treasure hunt
An alternative to Geocaching, use pens and paper to create a free treasure hunt for the kids. A good way to get outside, hide a small reward and draw out a simple map of the surrounding area with a 'X' to mark the treasure. To involve the kids even more, get them to colour in the trees, rivers, and other landmarks, on the map, and wipe the map over with a used tea bag for an old-fashioned pirate treasure map feel.
 9. Tie-dye old clothes 
A great way to revamp unworn clothes, tie-dying is a free activity to entertain older kids. Tie elastic bands in small sections to the clothes, and submerge into a bucket with half water, half bleach. Let the clothes sit in the mixture for 10 minutes, remove the elastic bands and rinse thoroughly. Wash the clothes, and then the kids can show off their new colourful items, without having spent a penny.
 10.   Colours scavenger hunt 
Simply shade colours onto some paper and get kids to find flowers, stones, and other outside materials, which match the colours. A fun and easy way for younger ones to learn their colours whilst spending time outside at absolutely no cost.
For those of you wanting to treat the kids during the holidays, take a look at a few suggestions we have been looking at...
Leapfrog Shapes & Sharing Picnic Basket
Learn about colours, shapes, manners and more while on a pretend picnic with the Shapes & Sharing Picnic Basket. Lift the lid to hear cheerful phrases and unpack the 16 play pieces, including colourful plates, forks, cups and food. The interactive shape sorter on the lid recognises the food pieces and says the shape and colour of each one. Hear polite food requests and delightful learning songs by pressing the butterfly button. Drop the correct food in the basket for rewarding responses that encourage good manners. Learning's a picnic with this friendly basket! For ages 6-36 months. The Shapes & Sharing Picnic Basket creates a fun setting for children to learn about important vocabulary terms from manners to shapes and colours while exercising their imagination. The various toy pieces encourage children to build their fine motor and matching skills. Clement Chau, PhD, Leapfrog learning expert all Leapfrog toys are educator-approved, child-tested, follow national standards and feature British spellings, phonics and pronunciations.
This super cute set is great for preschoolers to play make pretend summer picnics weather that's indoors or out and this lovely little set make sit great fun with a bit of educational development thrown in.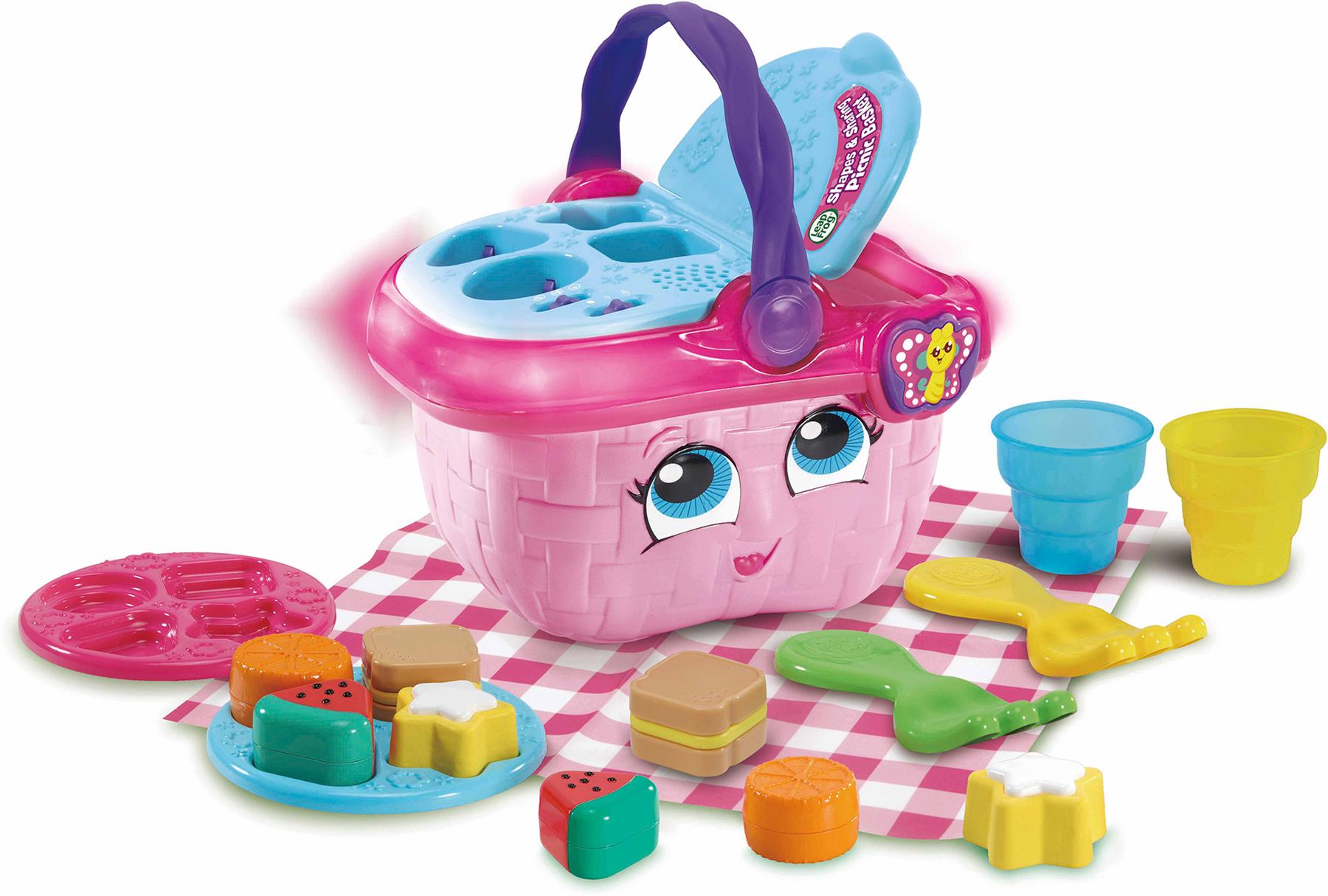 RRP £32.99
Available from most good Toy stores or Visit Shapes & Sharing Picnic Basket Refresh (leapfrogstore.co.uk)
KidiZoom PrintCam by VTech

KidiZoom PrintCam by VTechTake a photo and print it instantly with the KidiZoom PrintCam by VTech! The flip-up lens allows for easy selfies too. The camera is jam-packed with fun features like special photo effects, stamps and borders, 3 games, panoramic prints and comic strip maker. You can also turn your photos into line drawings to colour or use the print shop to print games, design and print your own cards, pretend money, accessories, and more. Also functions as a normal digital camera: you can take videos and save photos and videos and transfer by USB. Memory is expandable by microSD card (SD card not included). Includes 1 roll of Thermal Paper that allows you to print in black and white. VTech tablets & handheld devices include Time Limit controls which can be used to set the amount of time your child is allowed to play on the device or to mark certain areas of the day as off limits. This feature can be found in the Parent Settings/Settings menu and we recommend this is used. For more information and some easy to follow tips on screen time for both parents & children please refer to - https://www.vtech.co.uk/screentime Micro-USB cable included (for data transfer only).
We were super impressed with this camera and the little ones loved it.  They really enjoyed being able to wander about snapping away with instant printing on the go.  Although the images are black and white they are great quality and much more cost effective than colour meaning the kids can print to their hearts content.  We did wonder just how much refills would be but again we were really surprised to find a refill pack containing 3 paper rolls (each printing aprox 80 images) and 2 sticker rolls (each printing aprox 20 stickers) costs just £10.99.  Thanks to the heat transfer print there is no need to replace any costly ink cartridges either.  A fantastic camera for the kids for any occassion.
RRP £79.99
Electronic Learning Toys | Best Learning Toys | VTech UK

---