Bullying or banter? It's time to speak-up and 'make a noise' if someone crosses the line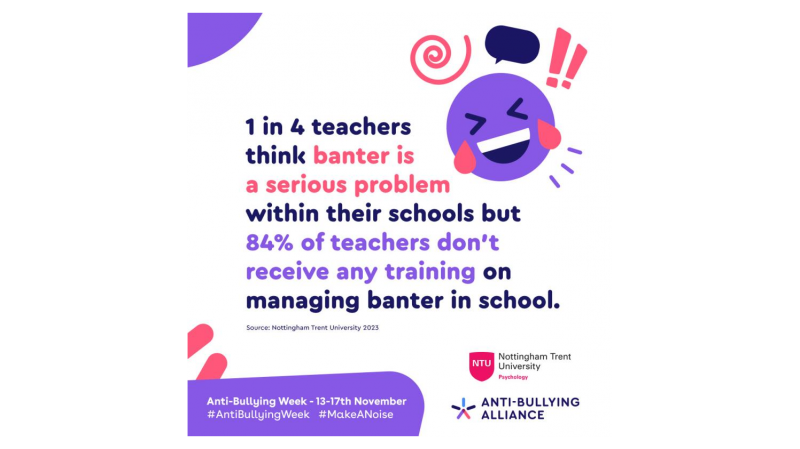 Bullying or banter? It's time to speak-up and 'make a noise' if someone crosses the line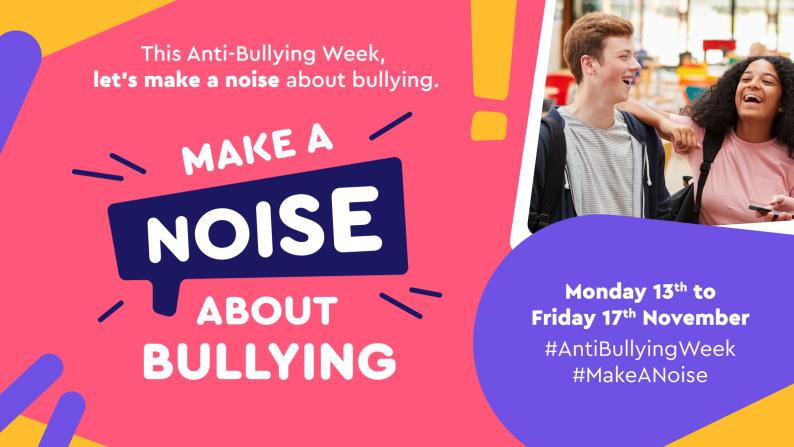 Over 1 in four teachers say that face-to-face banter in schools is a serious problem in their schools, yet 84% receive no training on how to deal with banter.
Almost 1 in 4 children (23%) said they are being frequently bullied face-to-face, with the situation even worse for those with special educational needs and disabilities (29%), or those from poorer families (28%).
'Make a Noise' is the theme for Anti-Bullying Week 2023 taking place from 13 to 17 November 2023, encouraging children and adults to not stay silent about bullying.
Odd Socks Day marks the start of Anti-Bullying Week on Monday 13 November. It is supported by CBeebies presenter & ABA patron Andy Day and his band 'Andy and the Odd Socks'. To take part, wear odd socks to your school, at work, or at home.
Anti-Bullying Week is coordinated in England, Wales and Northern Ireland by the Anti-Bullying Alliance and is expected to reach over three-quarters of schools and over 7.5 million childrA Nottingham Tren
A University survey of nearly 900 UK teachers co-created with the Anti-Bullying Alliance, suggests that over a quarter of them (26%) think banter is a serious problem within their schools, with even more (37%) thinking its effects online are serious.
62% of the teachers agreed that there is a fine and subjective line of acceptability between banter and bullying.
Knowing when banter crosses the line into bullying is a challenge for teachers, as the overwhelming majority (84%) receive no training on the issue, and 64% say they have no school policy for dealing with banter to fall back on.

Campaigners are concerned that this is opening the door for bullying to proliferate.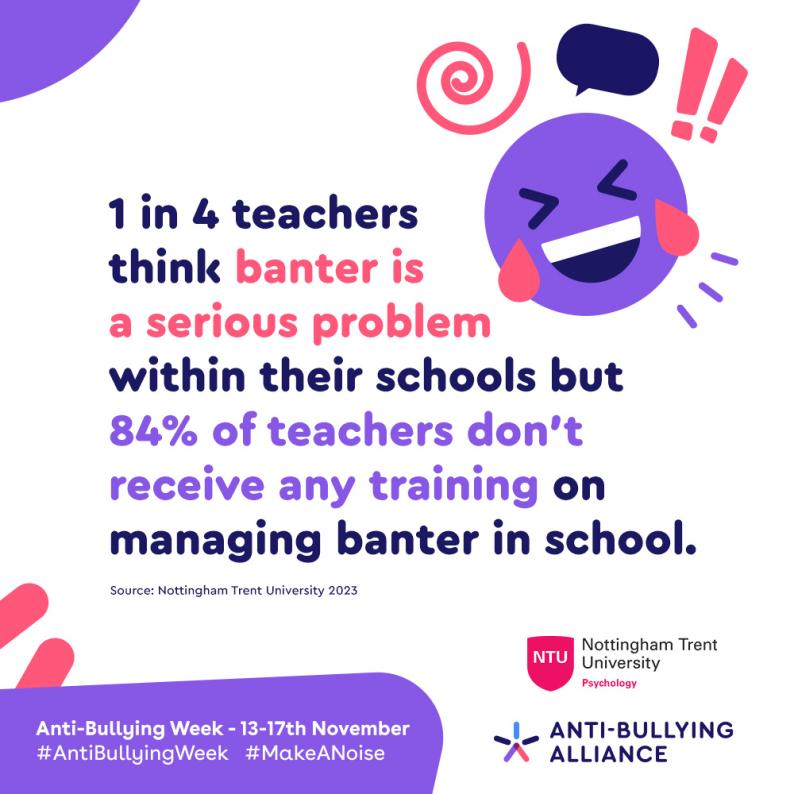 In separate Anti-Bullying Alliance research of nearly 65,000 pupils in England, researchers at Goldsmiths, University of London, found that almost 1 in 4 children (23%) said they were being frequently bullied face-to-face, with the situation even worse for those with special educational needs and disabilities (29%), or those from poorer families (28%). One in twenty children (5%) report being bullied frequently online. 6% of children say that they often bully others.

As part of this year's Anti-Bullying Week campaign, the Anti-Bullying Alliance is urging everyone to think about what we mean by banter, the role banter plays in bullying and how we can tackle it.

Campaigners insist that too often we are silent when we see bullying take place, silent about the hurt bullying causes, and silent when we hear bullying dismissed as 'just banter'.

It doesn't have to be this way. This is why 'Make A Noise About Bullying' has been chosen as the theme of Anti-Bullying Week from 13 to 17 November, urging people to speak to someone they trust if they are being bullied, and not to be a silent bystander if they see it happening to someone else.

Odd Socks Day takes place on the first day of Anti-Bullying Week. There's a serious message behind the fun: let's pull on odd socks to show we're ALL unique and different, and let's be kind to each other and respect each other's individuality.
Children's TV star, Andy Day and his band Andy and the Odd Socks, are supporting the campaign again in 2023 and have released a new video and song with young people 'Make A Noise'.

Get involved!

It's easy to get involved on social media using #AntiBullyingWeek and #MakeANoise on Instagram, TikTok, Facebook and X (Twitter).
Anti-Bullying Week and Odd Socks Day reaches millions of children, and their families so look out for #AntiBullyingWeek trending across your social media feeds.

We are expecting lots of celebrity support for the campaign. In past years, stellar influencers including Victoria Beckham, Prime Minister Rishi Sunak, Craig David, and Ant and Dec have all shown their support for Anti-Bullying Week.
About the Anti-Bullying Alliance
Anti-Bullying Week is coordinated in England, Wales, and Northern Ireland by the Anti-Bullying Alliance. We are a unique coalition of organisations and individuals, working together to achieve our vision to stop bullying and create safer environments in which children and young people can live, grow, play and learn. We are part of the National Children's Bureau. We are united against bullying.
For more information visit: www.anti-bullyingalliance.org.uk
Added By: Shropshire Mums
Added: Mon Nov 13 11:05 2023 (2 weeks ago)
Read: 491