STAGECOACH PARTNERS WITH PUFFIN ON CARRIE HOPE FLETCHER COMPETITION TO FIND NEW TALENT FOLLOWING SUMMER LOCKDOWN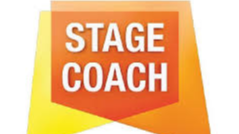 Stagecoach Performing Arts launches nationwide competition to find, celebrate and reward new young talent
Prizes include a yearlong subscription to 'stagecoachathome' and personalised gifts from Carrie Hope Fletcher
Expert panel of judges will select the winner this October
Stagecoach Performing Arts has teamed up with Puffin for a brand-new competition with Actress and Author, Carrie Hope Fletcher, as she releases her new book 'Into the Spotlight'. The Stagecoach Talent Competition opens on the 6th of October and will encourage young people across the UK to get involved and showcase their creative talents. The competition will close on Monday the 19th of October.
Children aged between 4 and 18 are invited to submit a short video entry themed 'My spotlight' to the dedicated platform – Stagecoach Competition. The videos should be no longer than three minutes and feature a performance of singing, dancing or acting. The entries will be reviewed by a panel of expert judges before one lucky winner and two runners up are selected.
The winner will receive a wonderful prize package including a 12-month subscription to Stagecoach At Home, the only place to access Stagecoach lessons anytime, from home, worth nearly £300, a signed copy of 'Into the Spotlight', and a personalised message from Carrie Hope Fletcher, with performance tips and advice from her illustrious career. Two runners up will also be selected and will receive a copy of 'Into the Spotlight'.
Carrie Hope Fletcher is an actress, author and vlogger who has starred in many major West End shows including Les Misérables, Heathers and The Addams Family, to name but a few. Her latest book, and middle-grade debut, 'Into the Spotlight' will be released on the 17th of September and is inspired by the much-loved classic Ballet Shoes by Noel Streatfeild.
It is set in an old theatre and follows Marigold, Mabel and Morris who live there with their eccentric Great Aunt Maud. The book is full of warmth and humour, teaching children they can aspire to anything they want to be, a belief shared by the Stagecoach community.
"We can't wait to see the entries from all those creative young performers. We are especially excited to see how young people choose to express themselves following these challenging times. Carrie is such a fantastic role model for many of our students, both for her impressive career on the stage but also for her writing about confidence and following your dreams, it's fantastic to have her on-board for this competition!"
"I am thrilled to be working with Stagecoach on this competition. Performing Arts can have a huge impact from a very young age, teaching expression as well as building confidence that you'll carry through life. I can empathise with Stagecoach students! Performing changed my confidence, on the stage, and beyond. I used my own experience as a young performer to inspire this story and I can't wait to see the talent from this competition, I'm sure I'll see many on stage one day!"
Stagecoach is the largest network of extra-curricular performing arts schools in the UK and has seen the likes of Emma Watson (Harry Potter, Beauty and the Beast), Jamie Bell (Billy Elliot, Fantastic Four), and Eleanor Tomlinson (Poldark, Jack the Giant Slayer) pass through its doors.
Stagecoach classes are divided across early stages (ages 4-6), main stages (ages 6-15) and further stages (ages 15+) and cover singing, dancing and acting. It teaches children to grow into well-rounded individuals, ready to embrace life and all its opportunities. None of us knows what the future holds, so it's important for today's children to be resilient, brave and self-assured. Founded in 1988, Stagecoach has seen over one million students unlock their potential.
For more information about Stagecoach Performing Arts, and to enrol please visit their website Stagecoach.
For more information on 'Into the Spotlight' please visit the Penguin website.
Added By: Shropshire Mums
Added: Tue Oct 6 10:20 2020 (1 month ago)
Read: 226