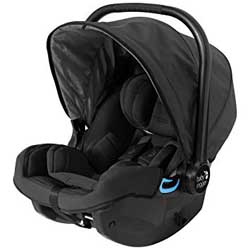 Baby Jogger City Go Infant Car Seat
About the product:
---
Baby Jogger City Go Lightweight, the city GO is quick, safe and easy to fit, making it ideal for families on the go! It's versatile design enables you to install rearward facing using a car's 3 point seat belt or alternatively, by using an ISOFIX base (sold separately).
SeatSuitable from birth until 13kg, the city GO has impact-absorbing sidewalls and features a 5 point safety harness with 3 height positions, designed to accurately fit your child as they grow. To ensure the harness is at the correct tension, use the one-pull harness adjuster for an accurate body fit. In addition, city GO has also been designed with your baby's comfort in mind and comes complete with a soft, padded seat unit made with premium fabric and a removable cushioned insert.
HoodCity GO features an SPF 50 plus protective removable hood canopy with 3 individual panels, enabling you to choose the amount of shade required.
Travel SystemUsing a car seat adapter, simply attach the city GO car seat to your baby jogger pushchair to convert into a travel system. Compatible across a range of baby jogger pushchairs including: city mini, city mini GT, city mini 4-wheel, city elite, city select, summit X3, zip, versa and the versa GT, the city GO provides parents with a range of travel system possibilities (car seat adapters and pushchair sold separately).
Group 0 plus car seat suitable from 0-13kg (birth to approx. 12-15 months old
Compatible with: city mini, city mini GT, city mini 4-wheel, city elite, city select, summit X3, zip, city premier, versa and the versa GT
Product weight: 3.6kg
Travel system compatible using car seat adapters (sold separately)
Use in a rearward facing position only
Install using a car's 3 point seat belt (optional ISOFIX base sold separately)
Includes impact-absorbing sidewalls for maximum protection
5 point safety harness with 3 height positions available
One-pull harness adjuster
Padded newborn insert included
SPF 50 plus removable 3 panelled sun canopy
Base can be rocked
Protective rubber base prevents scratching of surfaces
Adjustable handlebar
---
Approximate Price
215
Review Date
Mon Jun 4 0:00 2018
---
Our Verdict
Baby Jogger have done a great job in designing the City Go Car Seat and it comes in at an affordable £119 too. Whilst it may not be the cheapest, it is a long way off being the most expensive either. It is compatible with pretty much all of the Baby Jogger Strollers allowing you to compile a complete travel system. You have the option of being installing the seat with or without the optional extra base unit.
The LATCH technology and built in seatbelt locking mechanism give you great peace of mind that the seat is extremely safe and secure. It is super easy to fit and the base unit is extremely easy to fit into your vehicle making slotting the car seat in and out of the car even easier. It has a very useful level indicating device built in and an impressive 6 different recline positions to ensure your little one is in the perfect recline. I don't think I have ever come across a car seat with so many reclines!!
The car seat is really well padded ensuring a comfy ride for your little one.
Overall, this is a great quality car seat for the money. It does have a few small niggles such as the large canopy which can be a little awkward, Babyjogger are well known for the large canopies on their pushchairs but it just didn't work for me on the car seat. The harness adjustment can also be a bit tricky.
Other than that it's a great car seat made even better if you have a Babyjogger stroller / pushchair to give you the full benefit.
Pros
Well padded and comfy.
Good quality product.
Cons
Large hood on this model is awkward.
Straps are a little fiddly.
---
More from this category