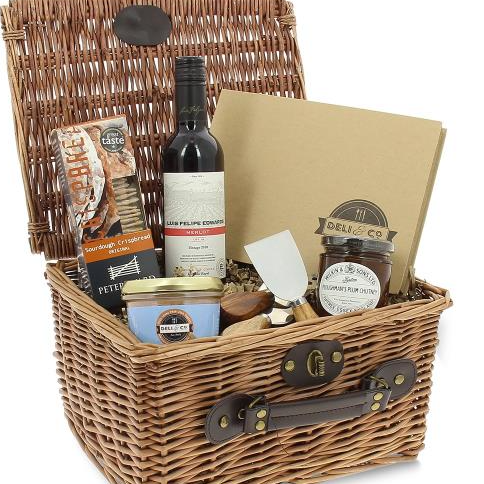 Cheese Loves Wicker Hamper from Moonpig
About the product:
---
It might be a little cheesy but if you think someone's grate, this hamper is the perfect way to wish them a gouda Fathers Day this year! For all the cheese lovers out there, this one's for them.
Contains:
Louis Felipe Edwards Merlot 37.5cl
Tiptree Ploughmans Plum Chutney 210g
Deli & Co. - Pork Liver Pate 180g 
Peter Yard - Sourdough Crispbreads Original 105g
Deli & Co - Cheese Knives in Book Packaging
Ingredients:
Tiptree Ploughmans Plum Chutney 210g -Victoria Plums (45%), Sugar, Apples, Sultanas, Wine Vinegar, Sea Salt, Gelling Agent: Citrus Pectin, Onion Powder, Ginger Puree, Garlic Puree, Star Anise.Deli & Co. Pork Liver Pate 180g -Fat and pork liver 40%, eggs, salt, starch, garlic, shallots, sugar, spicesPeter Yard Sourdough Crispbreads Original 105g -Milk, Rye Flour, Wheat Flour, Sourdough 11.5% (Rye Flour, Water), Wholewheat Flour, Honey, Salt, Yeast. 
Please note: if the recipient has any allergens, please ensure they have read the product information carefully. This is particularly important if on the rare occasion an item has been substituted.
---
Approximate Price
45
Review Date
Mon Jun 14 15:43 2021
---
Our Verdict
The perfect cheese loves hamper, comes with everything you need for a perfect cheese fest evening except the cheese!!
This gorgeous wicker hamper is beautiful quality and the contents do not disappoint, just even room to pop in a few favourite cheeses too.  Great quality tasty contents and you are left with a beautiful quality mini picnic hamper for afterwards too.  Great to restock and do it all over again!!