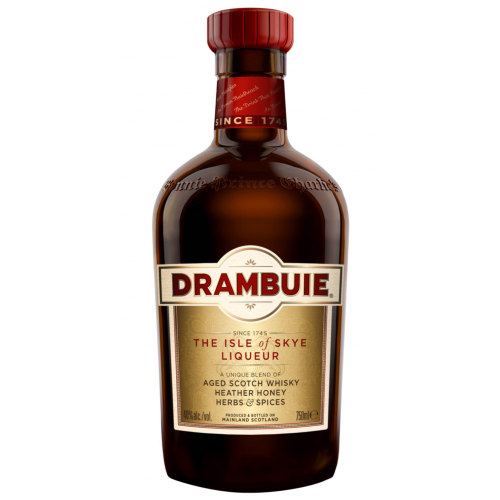 CREATE SPECIAL TIMES ONCE AGAIN WITH THE GIFT OF DRAMBUIE THIS FATHER'S DAY
About the product:
---
Indulge Dad in something he really wants this year – a favourite tipple to enjoy with friends and family, when the dinner is done but the evening is still young.  
Drambuie, the Isle of Skye honeyed whisky liqueur, has relaunched its premium spirit in a smaller 50cl bottle – the perfect gift to treat the favourite man in your life. 
Whether he prefers the rich honeyed spirit neat over ice like an Old Fashioned, as an iconic Rusty Nail, or as a bit of sweet heat in his favourite coffee, Drambuie is like coming home.  Familiarity with an edge of indulgence and he'll thank you for it.  
The aged Scotch whisky, which is mellowed with a secret recipe of soft spices, fragrant herbs, and heavenly rich and smoky Scottish heather honey, pairs with after-dinner courses including coffee, chocolates, desserts and cheese, providing at-home hosts with the perfect opportunity to spoil loved ones with the hospitable moments we have all craved for so long.  
Freddy May, Drambuie brand ambassador says, "Our new 50cl bottle is the perfect gift if your dad fancies himself a would-be mixologist or delights in playing host to family and friends. We know that Drambuie's long-standing fans already know how to throw a dinner party to remember, and our warming, full-bodied nectar is a firm fixture within home bars.    
"Treating guests to an extra special fifth course after a meal, when everyone is relaxed and conversation is flowing, is an accomplished hosting skill which comes naturally to Drambuie lovers. It's been too long since we've enjoyed those social meal occasions, and we're all looking forward to creating special times again with friends and family, especially this Father's Day."  
Drambuie's infusion of rare Scottish heather honey, harvested from the moorlands of Dumfries and Galloway, perfectly balances the flavour of Drambuie's secret blend of herbs and spices, to produce a velvety smooth, malty nectar, when sipped neat or over ice.   
"If you fancy something different for your dad that feels a little bit special and laidback, serve Drambuie with ice in a tumbler glass and add chilled espresso or cold brew coffee, a simpler serve to an Espresso Martini but equally delicious.   
"Or why not try the Espresso coffee hot, like Carajillo, the Spanish after dinner cocktail. For those who enjoy their coffee 'latte', why not try using plant-based coconut milk for something more luxuriously indulgent," adds Freddy.   
The new 50cl bottle, RRP £18, will be available in supermarkets across the UK from May.   
Espresso / Latte 
25ml Drambuie Honeyed Whisky Liqueur 
25ml Espresso or Cold brew coffee – hot or cold 
25ml Milk or Dairy Free, such as Coconut milk (e.g. Alpro) 
Lots of ice 
---
Approximate Price
18
Review Date
Tue Jun 15 11:38 2021
---