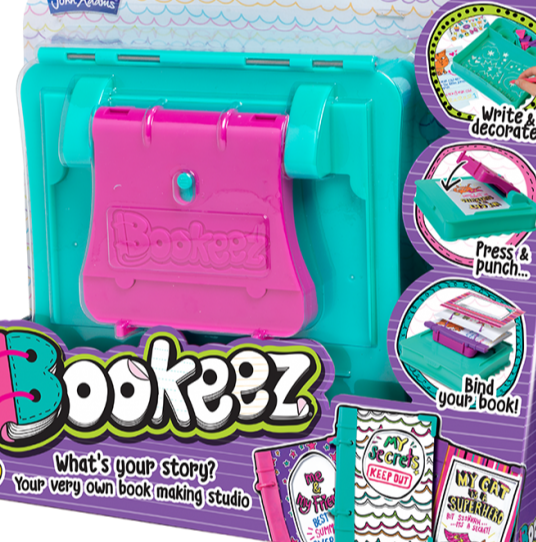 Bookeez - Your Very Own Book Making Studio
About the product:
---
What's your story? Your very own book making studio. Fact or fiction, poem or play, what will you create today? All you need to add is your imagination. Write and decorate, press and punch then bind your book! Bring your ideas to life with is clever unit.
Features
Contents: 3 x Spines, 6 x Corner Protectors, 2 x Sticker Sheets, Bookeez Studio, 40 x Pages, 6 x Pre-Punched Covers
Make and recreate 3 books
Change a page or your whole book with simple click
Everything stores neatly inside the unit
Includes 30+ stencils and 6 rubbing textures within the unit
---
Approximate Price
14.99
Review Date
Thu Mar 5 14:22 2020
---
Our Verdict
Love this product!!  I constantly nag my kids to read and practice their handwriting at home.  This product is perfect, my kids absolutley love crafting and this fantastic kit ticks all the boxes...
1. It gets my kids reading
2. It gets my kids practicing their handwriting
3. Encourages creativity and imagination
4. The kids love it because it involves crafting and making
It comes with everything you need and I love how easy it is to change pages or even take it apart and create a totally new book... So many of these kid of kits are far too throw away these days... Once you make the product with the enclosed kit you end up throwing so much away (including lots of plastic which is never good).  I love how this can be kept and used over and over again.