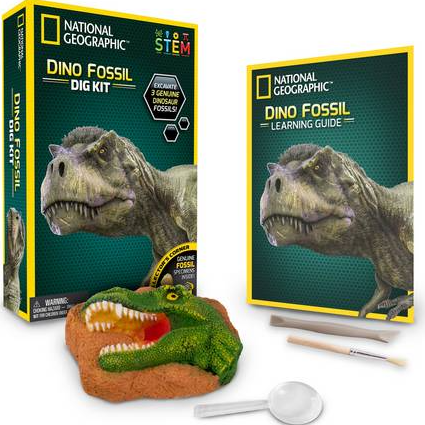 National Geographic Dino Fossil Dig Kit
About the product:
---
National Geographic's Dinosaur Dig is an exciting hands on adventure that boys and girls love! Your child will become a real paleontologist as they explore fossils that are millions of years old. The included full-colour learning guide allows children to identify and learn all about each specimen they uncover! Spark your child's love of history and science, and teach them all about dinosaurs with National Geographic.
This science kit includes: One digging brick containing 3 ancient fossils (dino bone, mosasaur tooth, dino poop), archeological digging tools, full-colour learning guide, and magnifying glass.

Size H8.5, W10cm.

For ages 3 years and over.
Manufacturer's 1 year guarantee.
---
Approximate Price
8
Review Date
Wed Dec 2 14:43 2020
---
Our Verdict
The National Geographic kits are always a great way of educating children in a fun hands on way.  The learning guide gives you all the info and facts you need to provide an insight into the paleontologists role whilst the hands on fossils teach children where and how fossils are carefully discovered.
I would be prepared for lots of mess as your child digs away and the  materials crumble.  A fascinating kit that's great fun for the avid fossil hunter and you get to keep dino poop??  Who knew dino poop could last so long!!!
Fantastic stocking filler gift and a wonderful way to keep the kids quiet for a while!