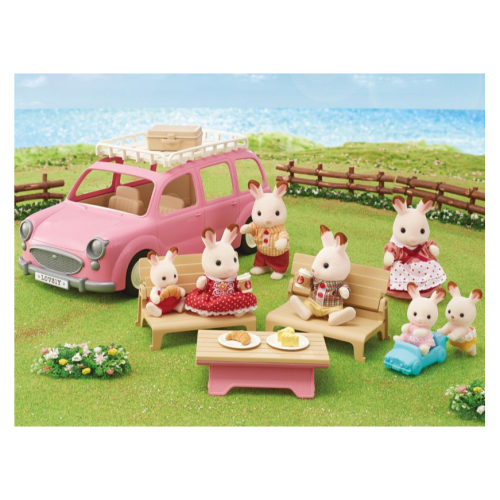 Sylvanian Family Picnic Van
About the product:
---
A new car with a roof rack, that can fit up to eight figures (sold separately).
The boot door and seats turn into a picnic table set. The included plates and food can be put in the basket!

Includes a total of 15 pieces: Main unit, Rack, Back door/Table, Handle, Basket, Seat/Child seat x2, Cheese x2, Croissant x2, Plate x2, Drink x2.

Combine with other products (sold separately) for more fun style changes!

Combine with Bakery Shop Starter Set to transform the van into a mobile bakery (as shown below). Or combine with the Red Roof Cosy Cottage kitchen to transform it into a camper van.

---
Approximate Price
29.99
Review Date
Mon Oct 4 13:18 2021
---
Our Verdict
Sylvanian Familys have been a favourite of little girls for more years than I care to remember. The furry little characters and tiny little accessories provide hours of endless role playing fun.  The family picnic van is a fantastic little addition to the Sylvanian Family sets.  As always, well built and great quality with lovely attention to detail in the finishing touches such as the open door handles, converting back door to a picnic table, even child car seats and so much more.
A beautiful little car that little ones will really enjoy travelling their little characters around in.