Back To School 2022
Added by: Shropshire Mums on Tue Aug 23 20:20 2022
Are You Back To School Ready
In the blink of an eye the School Summer Holidays will be drawing to a close. From September, schools will be forced to provide affordable uniforms for their pupils after years of runaway prices left parents frustrated.
The government passed new legislation last April that comes into effect when pupils return to school next month for the start of the new school year.

The guidance has several new rules, which state schools must provide an affordable option for school uniforms.

Schools will still be able to provide their own higher-priced uniforms, often branded with their logo, but an alternative must be available and accepted.

Check out the below tips to help find affordable uniform below
Hand me downs
Don't be afraid to use hand me downs. If a blazer for one child fits the younger one when they've outgrown it, then make good use of it. Don't just share hand me downs with siblings - if you and your friends all have children at the same school, then make use of that network.
Uniform swap
It's becoming a popular trend among parents to help save some extra cash. There may be an online group for your local school where you can easily swap uniforms such as a 'year 4' top for some 'year 5' trousers. It's always best to do it just before the academic year starts.
Look out for 'pre-loved giveaways'
Check around selling groups for members who are selling bundles of school uniforms as part of free giveaways. These are often first come first serve, so make sure to turn post notifications on!
Shop around at different retailers
Explore various shops which are selling packs of uniform items for your unbranded clothing. This will further help when buying multiple packs to last throughout the year.
Spread the costs
Have a look at where you can put away the spare £10 or £20 every week and allocate it directly for school uniforms. If you save these extra pennies, you'll be able to have a higher budget for the start of the academic year.
Keep your eyes peeled
It's always worth keeping an eye out for any discounts or voucher codes. These can make a big difference to the school uniform spend.
Go directly to the school
Many parents aren't aware of this tip but heading straight to the schools is a great way to get free school uniforms. Lots of kits are donated at the end of the academic year and these are usually available for collection in the first month of re-opening.
We have been taking a look at some great Back To School products to help settle your big and little kids back to school.

Disclaimer – We received these products for the purpose of this review feature.
CLOTHING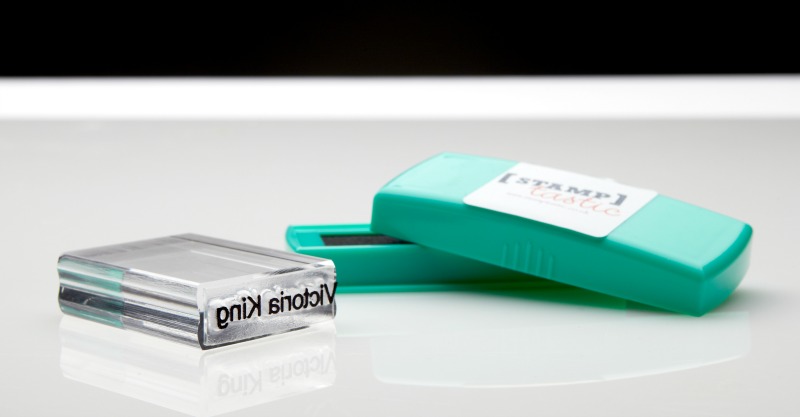 Stamptastic School Name Labels Basic Bundle 
With a staggering 75% of primary school children losing on average 1-2 items of uniform per year, Stamptastic is about to answer your prayers when it comes to that dreaded task of labelling items ahead of the back to school madness! The ingenious solution promises to save families hours of time, and plenty of money with its best-selling Personalised Name Stamp. Making it truly bespoke for little ones, parents can choose the text, font, size and even a novelty icon for the stamper, which can be used on a plethora of different items; it is a must have gadget for all families!
RRP: £23 
FOOD & DRINK
ORGANIX
If you are looking for healthy, wholesome and convenient lunchbox snacks that taste great then the Organix Kids range provides a fantastic selection of healthy school friendly snacks. Although these are aimed at pre school to school starting age, my older kids love them too.

With fresh, zesty flavours, the range consists of delicious Oaty Bars, Mini Flapjack Bites and Wholegrain Llama Puffs, that are the perfect size for lunchboxes and keep those hunger pangs at bay between meals.

Organix No Junk Promise means nothing artificial is added, no added salt, colour or flavourings and all snacks are under 100kcals and made with delicious organic ingredients.

Prices vary and the range can be found in most supermarkets

Put the Fun Into Fruit with Fruit Bowl: 
The range of Fruit Bowl products is split into snacks and treats. The snack range includes Peelers, which celebrate their 10th anniversary this year, Fruit Flakes and Unicorn Flakes. The treat range consists of Yogurt Flakes and Yogurt Coated Raisins. Each individual bag or bar is perfectly packaged for slipping into a school lunchbox or popping into a bag for parents on the go.

The range of everyday Fruit Bowl snacks includes:
Peelers are 100% fruit, six-sticky-stranded snacks that are a delicious and fun way for children to eat fruit. Available in three flavours, they are gluten-free, contain no added sugar, are vegetarian/vegan friendly and a simple way to make sure your child is getting just what they need, and enjoy interacting with the fruit in a hands-on way.  
Fruit Flakes are soft, chewy fruit pieces made from fruit purées – perfect for tiny fingers. Fruit Flakes are gluten-free and have no added sugar. Available in Raspberry, Strawberry and Blackcurrant flavours, Fruit Flakes are colourful, sweet and tangy, with each 18g bag having the same sugar content as a whole apple, making it super easy to give kids their fruit in a fun way! 
Available in beautiful shiny and pearlescent packaging, Unicorn Fruit Flakes are an exciting mixture of Fruit Bowl's top selling delicious Flake flavours – tangy Raspberry, sweet Strawberry and moreish Blackcurrant Fruit Flakes – and are made from soft, chewy pieces of real fruit purées, all of which contribute to a child's 5 a day.
The range of Fruit Bowl treats includes: 
Yogurt Flakes come in Fruit Bowl's three core flavours and are little fruit pieces created from puréed real fruit pieces, which are then covered in delicious yogurt. In fact, Fruit Bowl's Strawberry Yogurt Flakes are consistently they're biggest selling product! They're moreish, gluten-free, great for baking and perfect as an on-the-go or lunchbox indulgence. What's more, the range also comes in a 10 pack, making them great for parties or larger families and are a treat that parents enjoy too. 
Made with real fruit, Dino Yogurt Eggs are made with roarrr-some raisins covered in a creamy yogurt shell for a cracking snack time treat with a real fruity bite. The dino-licious treats are perfect for hungry herbivores and ravenous raptors! With pink red, green and blue speckled yogurt, dinosaur egg shells are made using all natural colours. 
With no added colours or flavours Fruit Bowl's Yogurt Raisins are made from juicy raisins covered in tasty yogurt. Also gluten-free, the Yogurt Raisins come in packs of 5x25g bags, perfect for a reward during the school week. 
So whether you're on the go, or shopping for the week's lunchboxes, Fruit Bowl have a solution that works for you and satisfies little tummies too! Readily available at Morrisons, Sainsbury's, Tesco, The Co-Op, Asda, Waitrose and on Ocado, you're never far from Fruit Bowl!
Home - Fruitbowl - Fruit Snacks putting fun into Fruit (fruit-bowl.com)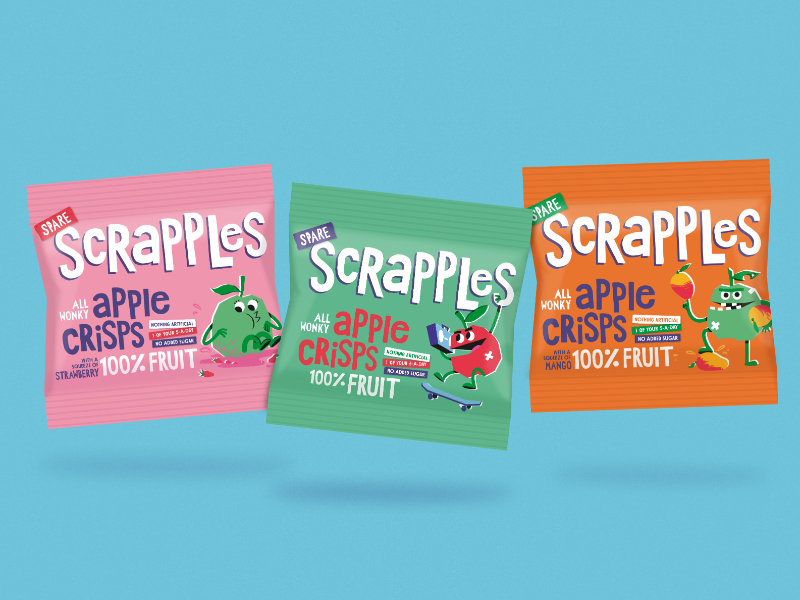 SCRAPPLES
Scrapples make delicious wonky fruit snacks for the whole family. The delicious, vegan, crunchy anytime snacks are made from 100% whole fruit, and the healthy and affordable range contains no added sugar, salt, fat or oil and a pack counts as one of your, or your kids', five a day. 
Great Taste Award winning adults' range, Spare Apple and Spare Apple & Mango (RRP £1 per 22g bag) come in at under 80 calories and are vegan, high in fibre are air-dried, never fried.
Kids' range, Scrapples Apple, Apple & Mango, and Apple & Strawberry Crisps (RRP £0.60 per 12g bag) come in at under 50 calories; they're high in fibre and mess-free, perfect for on-the-go healthy snacking or as a nourishing lunch box treat. Stocked by the UK's leading school caterer, Chartwell's, Scrapples is the healthiest kids fruit snack on the market.

Over 930m tonnes of edible food is wasted globally each year; Spare makes use of both wonky raw and dried apples that are often rejected because they are misshapen, blemished, or deemed the wrong shape or size. The wonky apples are always fresh and delicious, they just happen to look a bit irregular; Spare transforms them into beautifully healthy, Great Taste Award-winning apple crisps that are good for people, producers, and the planet. 

A handy, healthy, and mess-free option for keeping kids and adults alike fed and entertained, Scrapples is also launching new multipacks, which include Top Bumps character cards, giving kids a chance to chat about food sustainability in a fun way. Scrapples and Spare are available from Morrisons, Ocado, Amazon and Co-Op from September.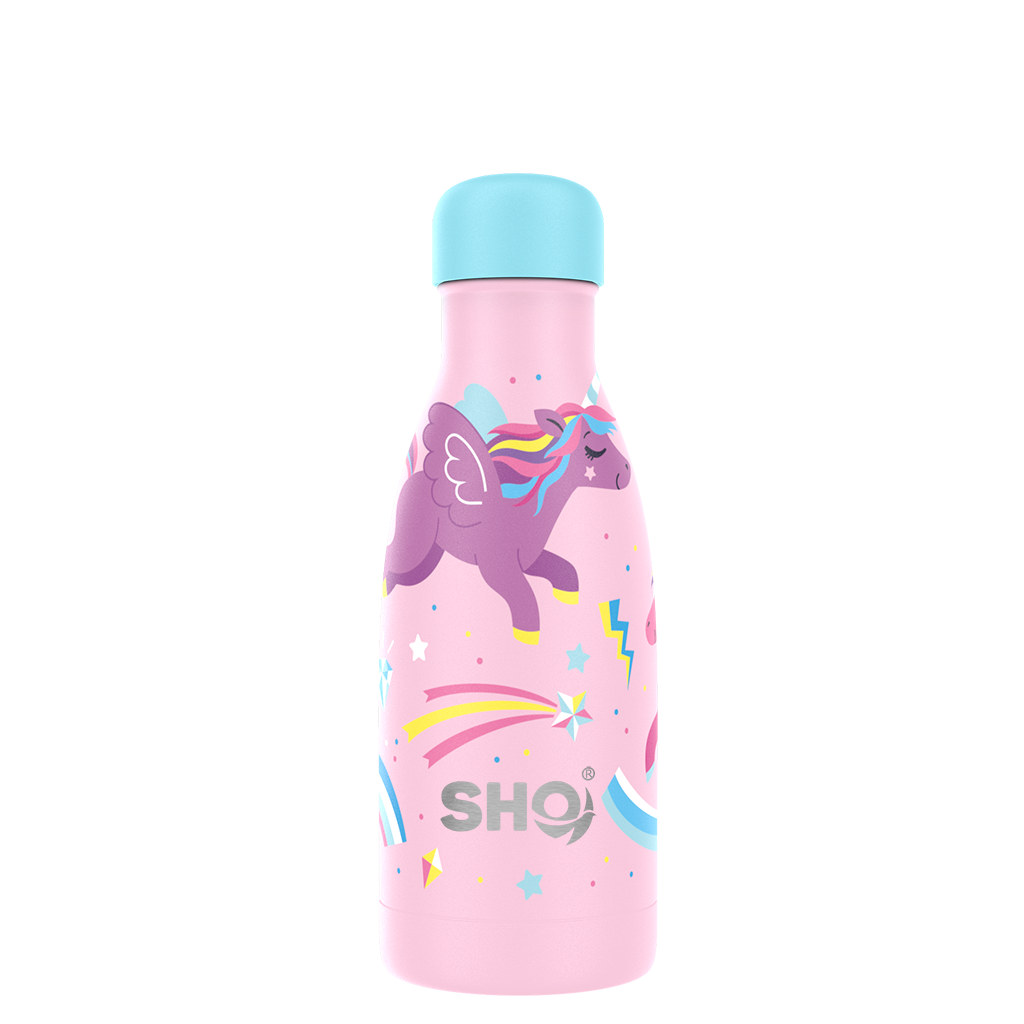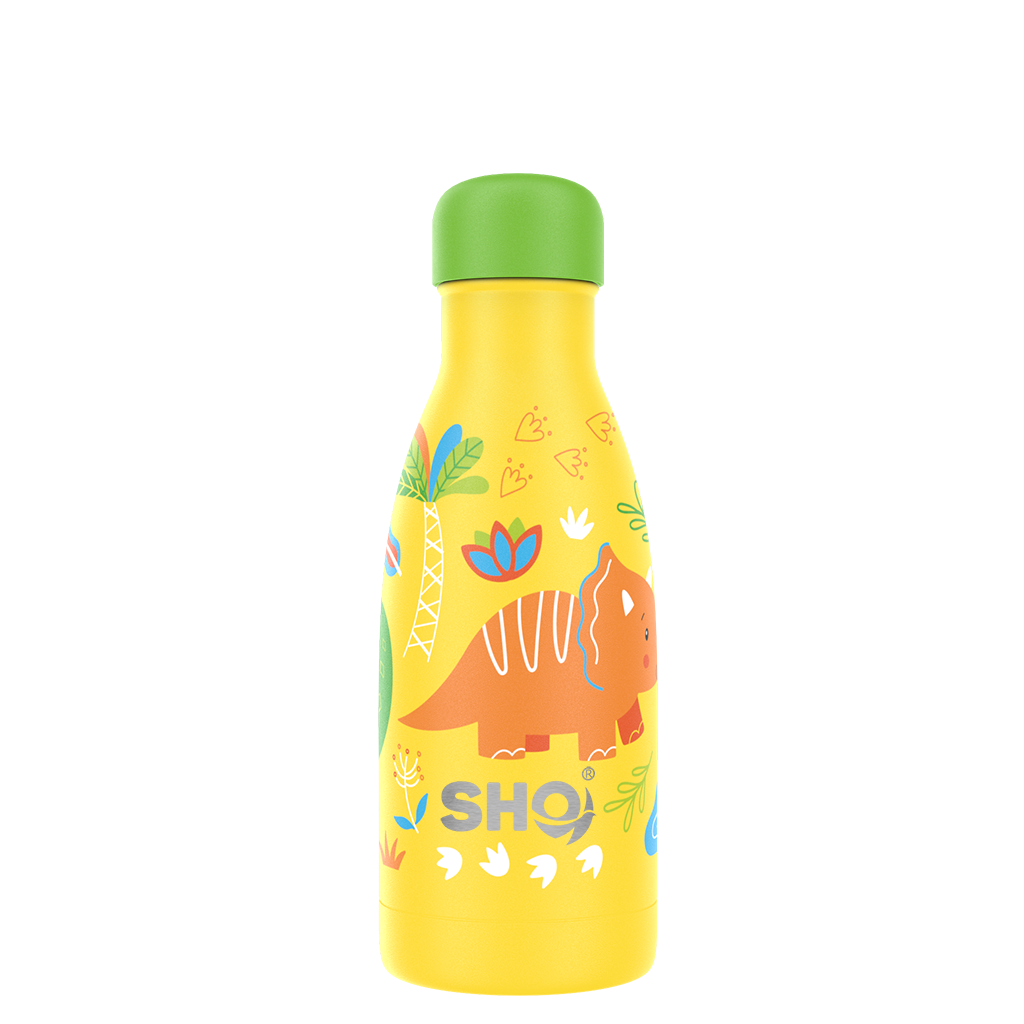 Back to School in Style with SHO Water Bottles 

According to research, the average UK parent will spend £191 on back-to-school shopping per child, including £20 or more on accessories such as lunchboxes and water bottles. And these are the items that are most likely to need replacing throughout the school year.
Invest in something that will last with SHO's beautiful kids bottle collection - the bottles are made from durable stainless steel for any accidents and you can add a carabiner to clip onto backpacks to prevent it being left anywhere.
With the new school year looming SHO's beautifully-crafted children's water bottles are the perfect choice for keeping them refreshed all day long.

Hard-wearing, eco-friendly and fun, SHO's water bottles come in 8 gorgeous designs that your little ones will love. There are 4 original designs from Emily Emerson (Underwater, Dinosaur, Unicorn and Space) and 4 brand new limited edition bottles from Sally Payne (Deep in the Jungle, Woodland Adventures, Under the Sea and Polar Friends).  

The bottles come in a handy 260ml size, making them perfect for lunchboxes and for little hands, and you can choose from a metal straw or optional straw lid. With SHO Vacuum Technology, your youngster's drinks will stay cold for the whole school day.
BPA free, 100% leak proof and covered by the SHO Lifetime Guarantee, the Original 2.0 Kids bottle is perfect for the little ones in your life. 

SHO's Original 2.0 Kids bottles are £12.99 a bottle from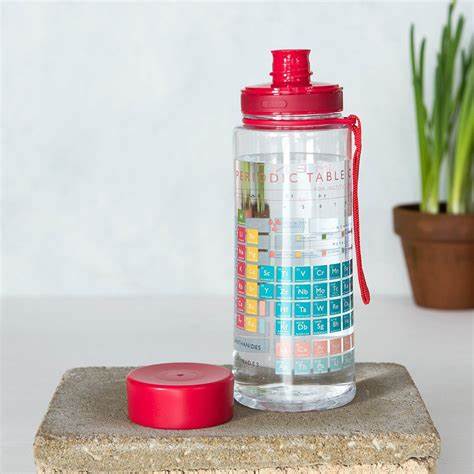 The Science Museum Periodic Table Water Bottle

Take science with you wherever you go with this Periodic Table 600ml water bottle with strap. Part of the Periodic Table inspired collection of lifestyle gadgets.
RRP £10
STATIONARY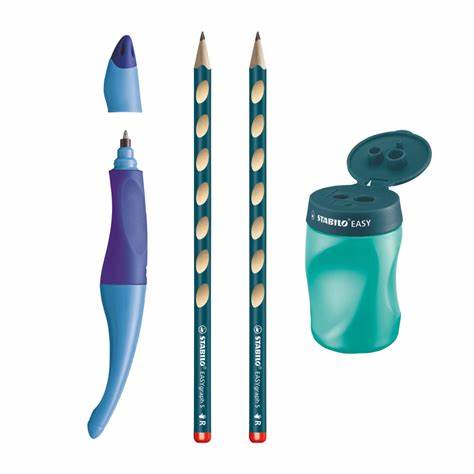 STABILO EASY Ergonomic Range
Scientists say that learning to write is one of the key aspects of a child's development, but it can also be one of the most challenging. The Stabilo Easy range has been designed for left or right-handers, uniquely designed for children as they learn to write. They pens, pencils & colouring  pencils have been designed to help children over the age of six take their first steps towards clear, legible writing. The ergonomic, non-slip grip prevents muscle fatigue and writing pain, enabling an optimal writing experience. The ease with which the ink in the rollerball glides across the paper means learning to write is something all children can enjoy. In a range of trendy colours, there is a design for every child to love.

Even from an adult point of view the gel pen feels super lovely to write with, it's smooth and super comfy to grip.  We love how this is refillable and also comes in both left and right handed versions.  A great starter pen for little ones moving on from the pencil. On the subject of pencils, the pencil and colouring pencils in the range provide a lovely easy grip design that we found allowed the children to focus more on theri writing without having to think too much about their actual pencil grip.
Prices start from around £4.00

TREATS & REWARDS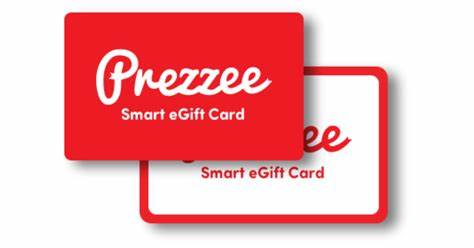 PREZZEE GIFT CARD

The Prezzee gift card is a great way to reward your kids for excellent behaviour, great school reports etc.  The card can be loaded with any amount from £5 upwards and sent digitally with a personalised message.  The recipient then gets to go online and claim the reward and choose where to spend it from a huge range of high street and online retailers.
Ryman Stationers
We love Rymans stationers, you can find everything you need for back to school in one place along with a fantastic range of personalised items at a  really affordable cost. 
 We were sent the below products from Rymans and as you would expect all were great quality branded products for a really good price. A fantastic range of products to settle into secondary school with.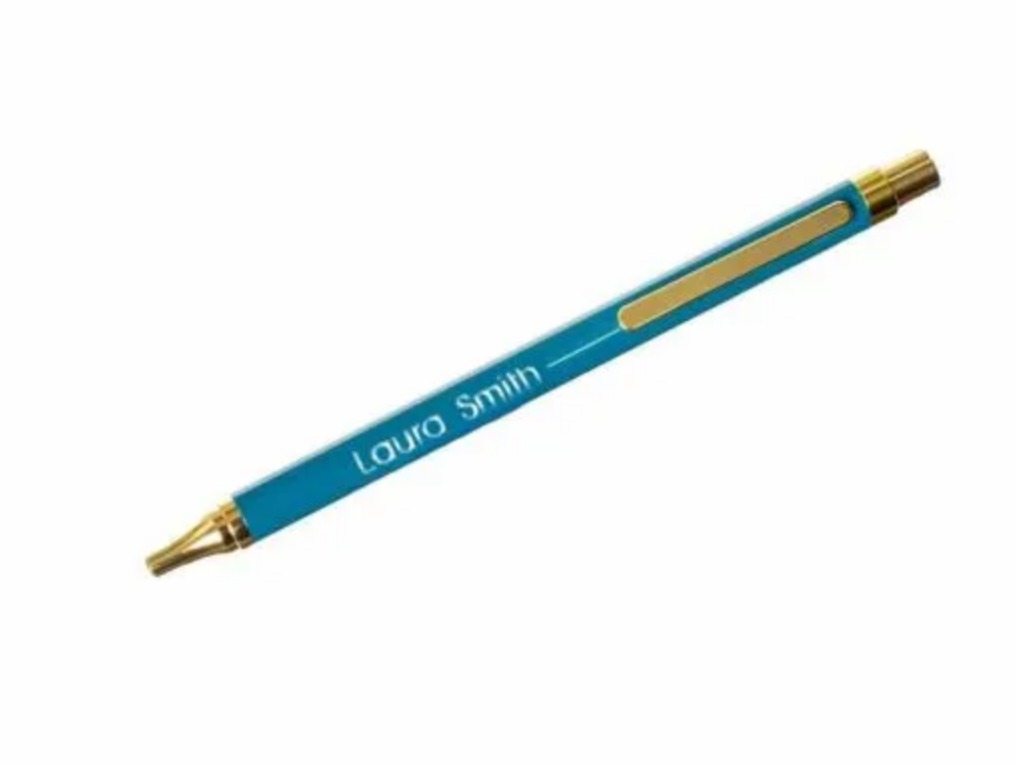 Personalised One Day at a Time 22-23 Soft Touch A5 Week to View Diary

Keep track of your schedule one day at a time with one of our own high quality Personalised Soft Touch Diaries, add a name or a short phrase that makes the diary truly your own in a shiny finish. Featuring a week to view layout so you can view your busy schedule at a glance, this mid-year diary with its A5 size makes it easy to take with you wherever you go.
You can personalise the diary to your taste with your choice of text on the cover. The personalised touch makes it great as a gift to someone you know or even to yourself!
Ideal for keeping notes of birthdays, meetings and other important events throughout the year, perfect for students, teachers and parents.

Customisable:

- Name or message (Example John's or Jane's Diary): 15 characters

Note: Personalisation will appear EXACTLY as entered. Please check spelling before purchasing. No refunds will be offered for mistakes.

. Personalised A5 diary

. 22-23 Week to view layout
RRP £13.99
Ryman Personalised One Day at a Time 22-23 Soft Touch A5 Week to View Diary

Personalised Ryman Signature Metal Ballpoint Pen Teal
This premium quality Personalised Metal Ballpoint Clicker Pen Teal is the perfect gift for a loved one or friend. It features a stylish teal barrel that's perfect for taking notes or jotting down memories whilst on your travels.
This pen features a handy click retractable tip keeping it from drying out when not in use.

. Personalised

. Ballpoint pen
. Teal barrel
. Black ballpoint refill
RRP £7.99
Personalised Ryman Signature Metal Ballpoint Pen Teal
Casio FX-83GTX Calculator
The Casio FX-83GTX features a clearer display, simpler menus a faster processor, 14 additional functions and is available in multiple colours.
With a large textbook display, mathematical expressions such as roots and fractions appear as they would within a textbook making it easier to use and understand. This upgraded version of the GTX includes several new features including but not limited to; ratio, advanced statistics and a digit separator.

Perfect for use in Key Stages 3 and 4 as well as GCSE, National, Higher, Junior and Leaving levels of education.

. Large clear natural textbook display/ Natural V.P.A.M

. Slide on hard protective case
. Battery powered (Includes 1 x AAA Battery)
. Prime Factorisation
. Enhanced calculations of mathematical priorities
. Auto power off
. Recurring decimal display
. 274 Functions available
. New features include; Ratio, Digit Separator, Advanced Statistics, Advanced Tables and Variables List
. Recommended for use within KS 3 and 4, GCSE, National and Higher, Junior and Leaving certificates
. Approximate dimensions (mm) H 14 W 77 D 166
RRP £11.99
Casio FX-83GTX Calculator (ryman.co.uk)
MINDFULLNESS & WELLBEING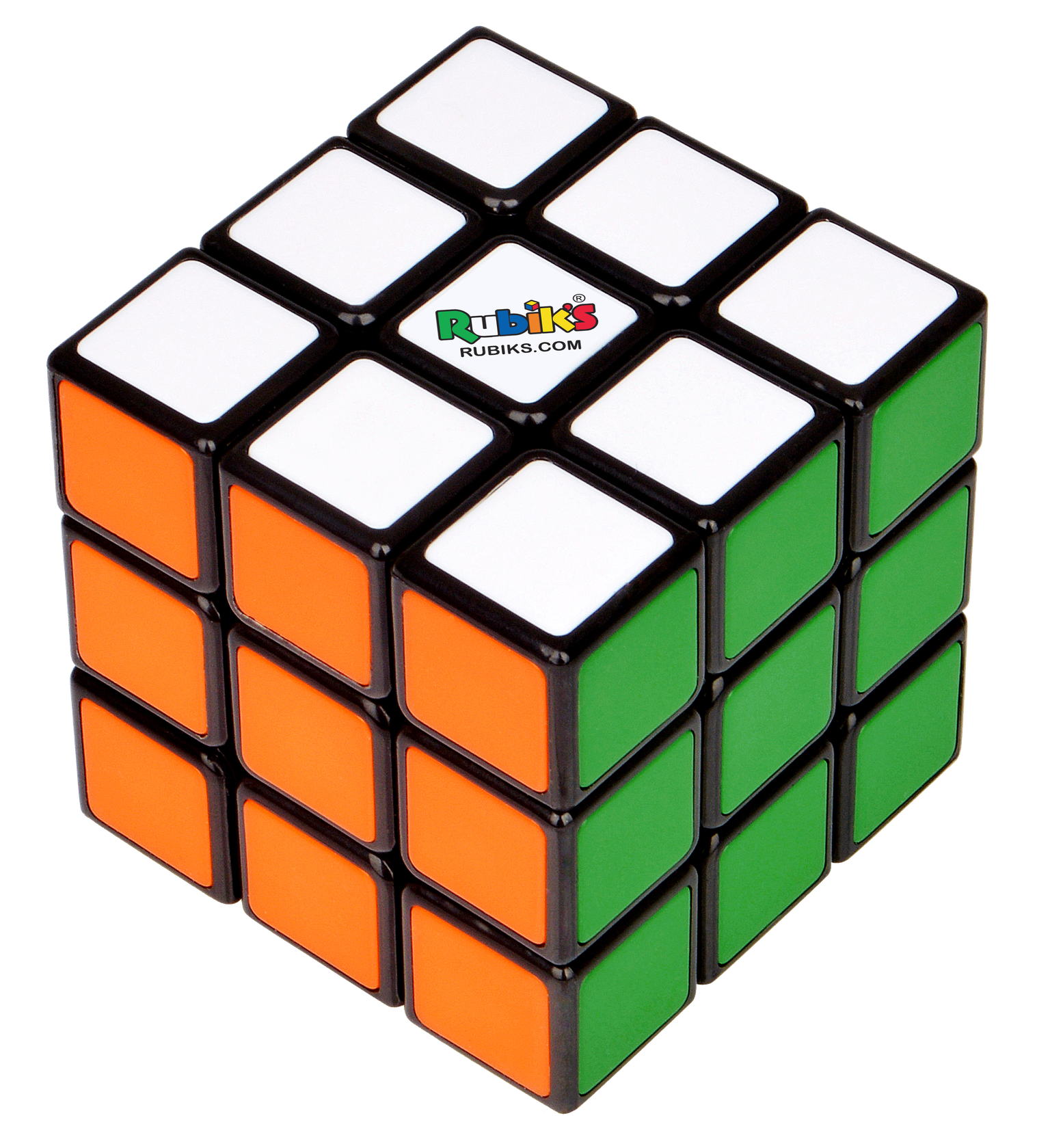 The Original Brainteaser Rubik's 3x3 is now massively popular after it appeared in Stranger Things and is ace for mindfulness.
 Age 8+ 
SRP £14.99 
Retailer: Tesco, Amazon, Sainsbury's and Argos 
The Rubik's Cube is a classic colour-matching puzzle that can be enjoyed at home or on the move. The original, classic 3×3 Cube is a brilliant brain teaser that has fascinated fans all around the world for decades. 

The new and improved Rubik's Cube features a mechanism that results in a smoother, faster and more reliable play. The traditional stickers have been replaced with plastic tiles which means no fading, peeling or cheating!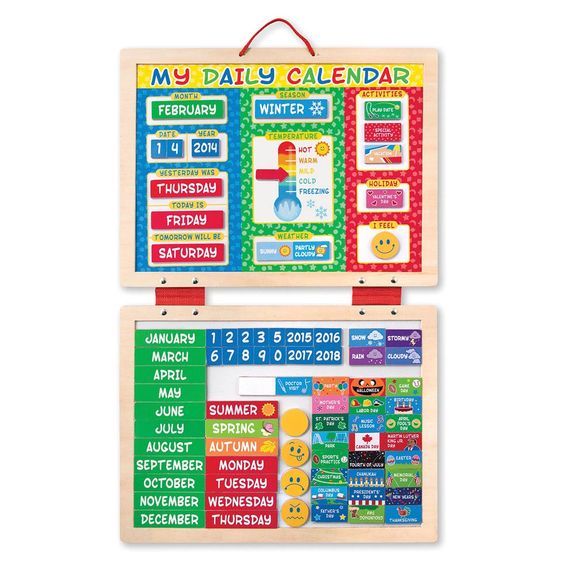 Melissa & Doug My Magnetic Daily Calendar
What is today? For a child, that simple question can have so many answers--and this daily calendar helps satisfy them all! Kids will feel a greater sense of control and responsibility when they help post the day of the week, date, weather, and special events on the large magnetic board for all to see. There's even a space to post their mood--an excellent way to open communication and encourage children to gauge their own emotions. Updating the information is simple: Simply take a preprinted magnet from the lower magnetic board (which hangs below the calendar to keep magnets within easy reach). Then place it on the calendar to fill in the information . . . or make a custom magnet by writing on one of two dry-erase magnet tiles! There are fields for day, date, season, weather, temperature, activities, holiday, and mood.
Daily magnetic calendar to display day of the week, date, weather, and special events
Includes a pair of fabric-hinged dry-erase boards (one with calendar template, one blank for magnet storage) with a sturdy cord attached for hanging
83 magnets including years, months, numerals for dates, days of the week, holidays, special events, emotions, and a sliding temperature indicator
Encourages communication and a reassuring expectation about the events in a child's life
Makes a great gift for preschoolers, ages 3 to 6, for hands-on, screen-free play
RRP £17.00
My Magnetic Daily Calendar | Melissa & Doug (melissaanddoug.com)

TECHNOLOGY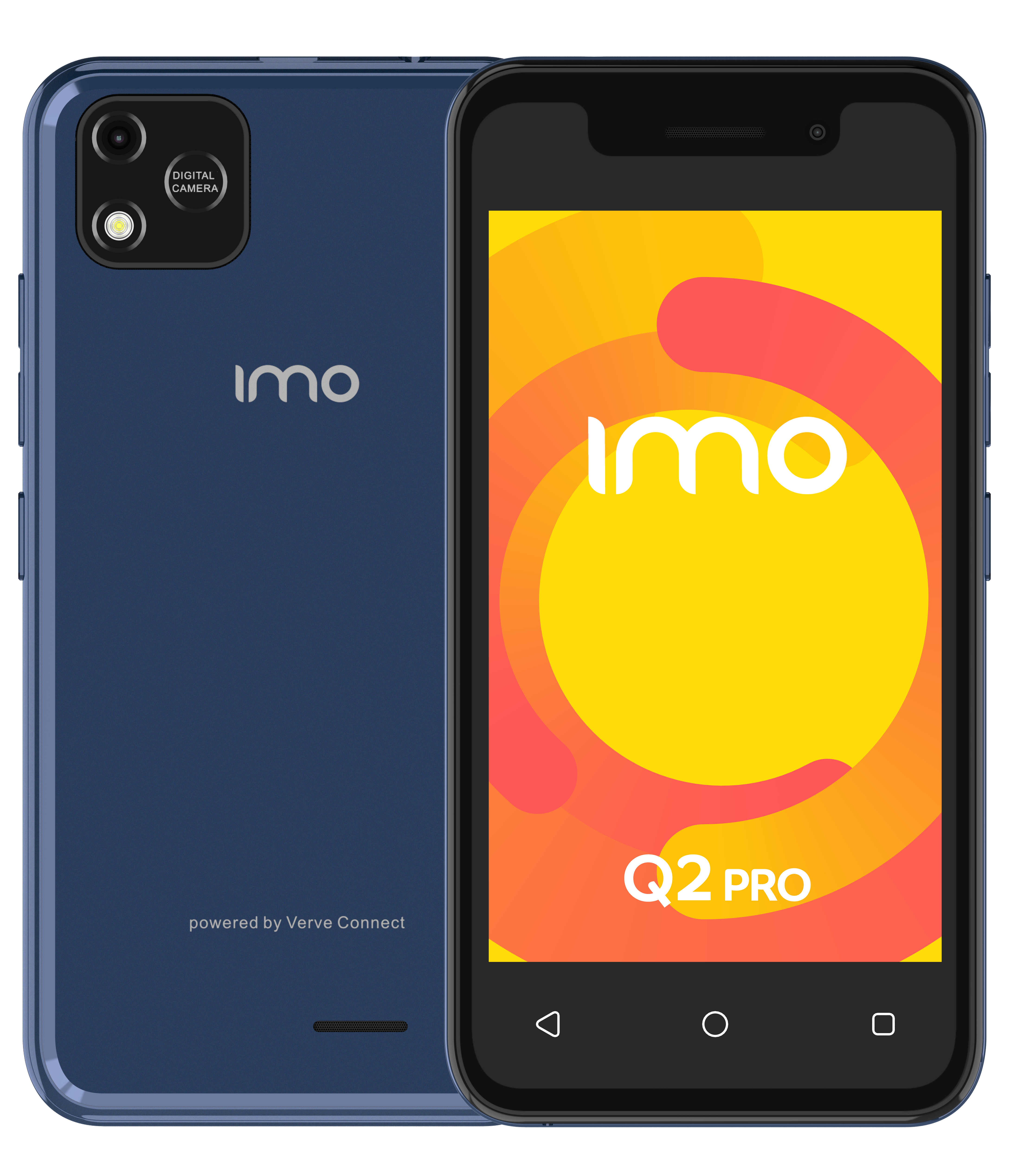 IMO Q2-PRO Mobile Phone
When it comes to back to school essentials communication is key. The IMO Q2 Pro is a great first phone for children. Stylish yet affordable at just £39.99. This sleek device boasts facial unlocking technology, dual rear camera and Android Go allowing them to stay up to date with the latest games and apps. Whether your child is venturing to school on their own for the first time or simply needs the comfort of knowing that they can reach you throughout the day the IMO Q2 Pro is a cool, money savvy option. Smartphones don't need to cost a fortune. IMO's budget friendly smartphones are a hit with both children and parents. You can purchase the IMO Q2 Pro at all leading, EE stores and online and Argos both in store and online.
This phone is perfect for beginners, as a safety phone for kids of as a carry around phone to stop rather than children loosing or damaging more expensive versions.. For such a great value phone it has a great 5mp camera and a super impressive 15 day battery standby life!!  It's super easy to use and super importantly in todays climate it is amazingly affordable yet still manages to pack in plenty of ample features and looks good too. 

RRP £39.99
---