Festive Food & Drink 2023
Christmas 109
Added by: Shropshire Mums on Mon Nov 20 20:51 2023
What's cooking up a stir this Christmas
From Christmas Buffets to full roast dinners and movie snacks, we've been taking a browse and taste sampling some of the finest foods & drinks to be had this Christmas & New Year...
For something a little different.....
Kelly Loves Korean Variety Box
From Seoul, via Tokyo, to you.

Kelly Choi has been sharing Korean and Japanese flavours for over a decade. The founder of Sushi Daily - Europe's leading sushi kiosks - Kelly has introduced her favourite finds from home with the Kelly Loves range of snacks and meals: discoveries made in local stores, down bustling backstreets, around dinner tables, that evoke memories of her childhood. But each item in the collection has to pass a test: only food good enough for her daughter makes it into the family.
Get the best of Korean cuisine in one beautifully presented box! Our Variety Box is packed with the flavour, snacks, meals & drinks that will make you feel like you're in the streets of Seoul. Gift yourself or a friend this Korean delight for an unforgettable experience!
WHAT WE THINK
We have featured Kelly Loves in the past and their variety boxes are always a hit, kids absolutley love them too and its a great way to speand a family movie evening with a selection of super tasty quick easy meals, snacks and drinks.  Beautifully packaged and presented these kits make lovely gifts too.

£28.99

https://kellyloves.com/collections/korean-variety-boxes/products/korean-variety-box-2
Bird & Blend Christmase Tea Selection Gift Box
Bird & Blends signature, earth-friendly Christmas tea gift box contains four cartons of their best-selling Christmas tea blends. Each fully recyclable carton contains 15 plastic-free, biodegradable tea bags.

Includes:

Hazelnut Rocher (now nut free) | Black tea

Gingerbread Chai (award-winning) | Rooibos Tea
Mulled Cider | Fruit Tea
Salted Caramel Lebkuchen | Black Tea 
Worth over £27, plus a free gift box!
This blend is from the limited edition festive range! Only here for the holiday season, let these magical teas help you celebrate this season. But remember - they'll fly away faster than Santa's sleigh, so grab them while you can!
WHAT WE THINK
We do love Bird & Blend Tea, always a more luxurious tatse that you know has serious effort put into making the most delicious taste.  We always like seeing the blend in the various flavours and they always smell delicious.  We sampled the Brew Beliee Coronation Tea earlier this year and it was possibly on eo four most favorites yet.  Having said that Bird and Blend have pulled out all the stops with this festive range with something to suit everyin.  Our personal favorite is the Salted caramel.  A great treat for yourself or a super lovely gift.
RRP £24
Christmas Tea Selection Gift Box | Bird & Blend Tea Co. (birdandblendtea.com)
Crunchy Amaretti Jumbo Window Box
These crunchy amaretti are true to Lazzaroni family traditions that have been passed through nine generations, and counting. This beloved recipe uses sugar, bitter almonds and egg whites (hello gluten free) plus a sprinkling of sugar nibs for an extra touch of crunch. Our whopping big box, great for gifting and sharing, contains a heap of amaretti wrapped in their signature bow-tied paper. We love these little beauties crushed into desserts and sprinkled over ice cream.
Crunchy Amaretti by Lazzaroni, almond-flavoured biscotti in a jumbo window box




Made in Saronno, world famous for its amaretti biscuits and amaretto liqueur




Perfect with after-dinner coffee and digestivo and crumbled over puddings



RRP £18

https://www.sacla.co.uk/products/crunchy-amaretti-jumbo-window-box-420g?variant=43208068727014
STRICTLY OVER 18's -Be Resposible - DRINK AWARE
If its a festive tipple you are looking take a look at some of the below but please remember to be sensible and always be DRINK AWARE!!!!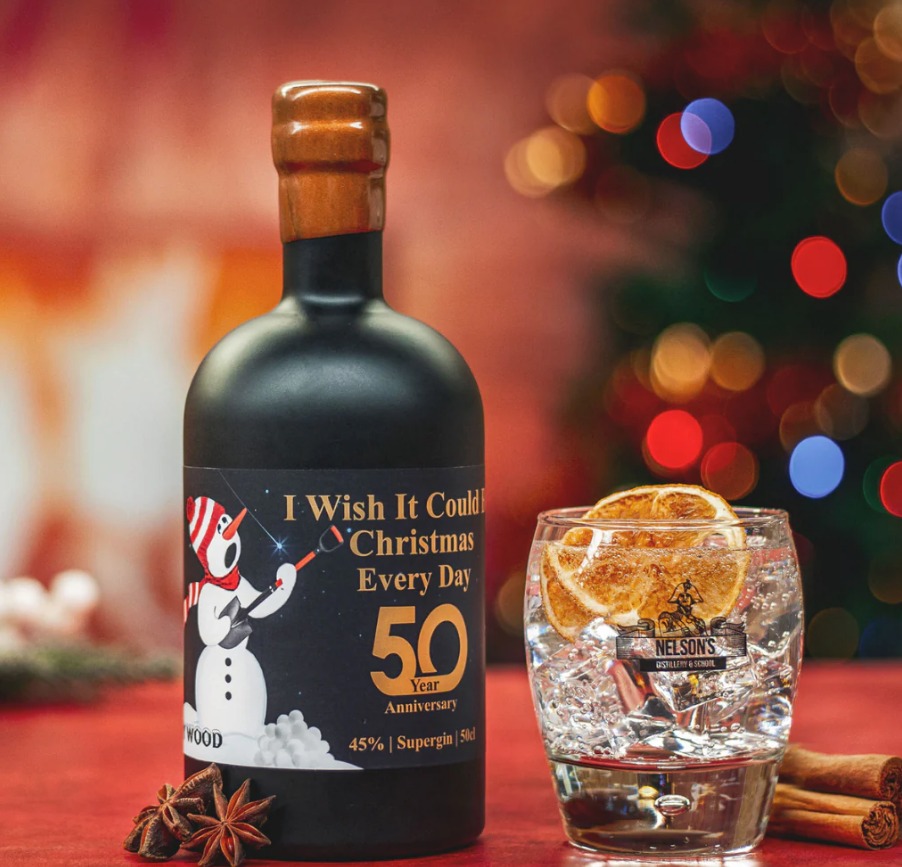 Roy Woods I Wish It Could Be Christmas Everyday Anniversary Gin
Get into the holiday spirit with Roy Wood's 'I Wish It Could Be Christmas Every Day Anniversary Gin'. Crafted to mark the 50th anniversary of the beloved Christmas anthem, this limited-edition gin is a delightful fusion of cinnamon, mulled spices, and sweet orange notes, coming together in perfect harmony at 45% ABV.
Wizzard legend Roy Wood joins forces with Nelson's Distillery to celebrate 50 years of festive hit I Wish It Could Be Christmas Everyday.
A glam rock legend has raised a glass to the success of one of the country's best-loved Christmas tunes by creating a special gin to celebrate its 50th anniversary.

Wizzard frontman Roy Wood has worked with Nelson's Distillery and Gin School, based in Uttoxeter, to create his gin 'I Wish It Could Be Christmas Everyday', named after the festive favourite.

He created the gin, which is described as tasting "like Christmas cake" in a bottle, with the help of Nelson's founder Neil Harrison, using only the finest botanical ingredients, including cinnamon, nutmeg, allspice, mulled spices, orange, pink peppercorns and juniper.

It is then distilled in-house and a limited number of bottles will be going on pre-sale this Friday, September 29. The first 20 bottles will be hand signed by Roy.

It is not the first time that Roy has created a gin with Nelson's, as previously he created a special Christmas Cheer brew and another called Blackberry Way, based on a hit song from his days with The Move.

However, his new tipple marks the milestone anniversary for his best-known hit, which first hit the charts in 1973 and has been a cornerstone of the Christmas countdown ever since.
The limited edition 'I Wish It Could Be Christmas Everyday' gin has an alcohol ABV of 45% in a 50cl bottle.
RRP £38
Available from nelsonsdistillery.co.uk
Hayman's Master Award Winning Sloe Gin
Wild Sloe Berries Steeped In Haymans Classic London Dry Gin 26% ABV

THE TASTE – Wonderful plum and cherry aromas, hints of almond and delicious fruity flavours beautifully balanced with our award-winning Hayman's London Dry Gin.
HOW WE MAKE IT - To create Hayman's Sloe Gin we gently steep Wild Harvested British Sloe Berries in our classic London Dry Gin for several months resulting in a Richly Balanced Sloe Gin.
THE SERVES - Enjoy all year round with Premium Lemon or Elderflower Tonic for a delicious Gin & Tonic; Top with chilled sparkling wine and celebrate with a wonderful Sloe Royale
A WINTER WARMER - Classically enjoyed throughout the festive season or as a warming companion to a brisk winters walk
A MULTI AWARD-WINNING SLOE GIN : Spirit Masters 2019 – Best in class "Master" Award; Spirit Masters 2018 - Gold, Gin Masters 2010 – Gold
RRP £28
Hayman's Sloe Gin | Master of Malt
Merser & Co. Double Barrel Rum 70cl, 43.1%
Rum blending house Charles Merser & Co. hails from the Hayman family (yes, the same folks behind Hayman's Gin), and is London's first rum blending house in over a century! The rum itself is distilled in the Caribbean, but is blended in London. In keeping with the traditions set by London's merchant blending houses of the 17th, 18th and 19th centuries, there's no sugar or colouring to be seen here, just good old fashioned rum rested in oak.
The bottle represents more than meets the eye too, with the dimpled bottle representing the River Thames on which rum was transported, while the hound and post logo is a little nod to the days when most Londoners couldn't read, and would follow symbols to find their way to merchant houses. On that note, Merser literally means 'merchant' in Old English.
RRP £35
Merser & Co. Double Barrel Rum | Master of Malt

Ciprianni Bellini 750ml bottle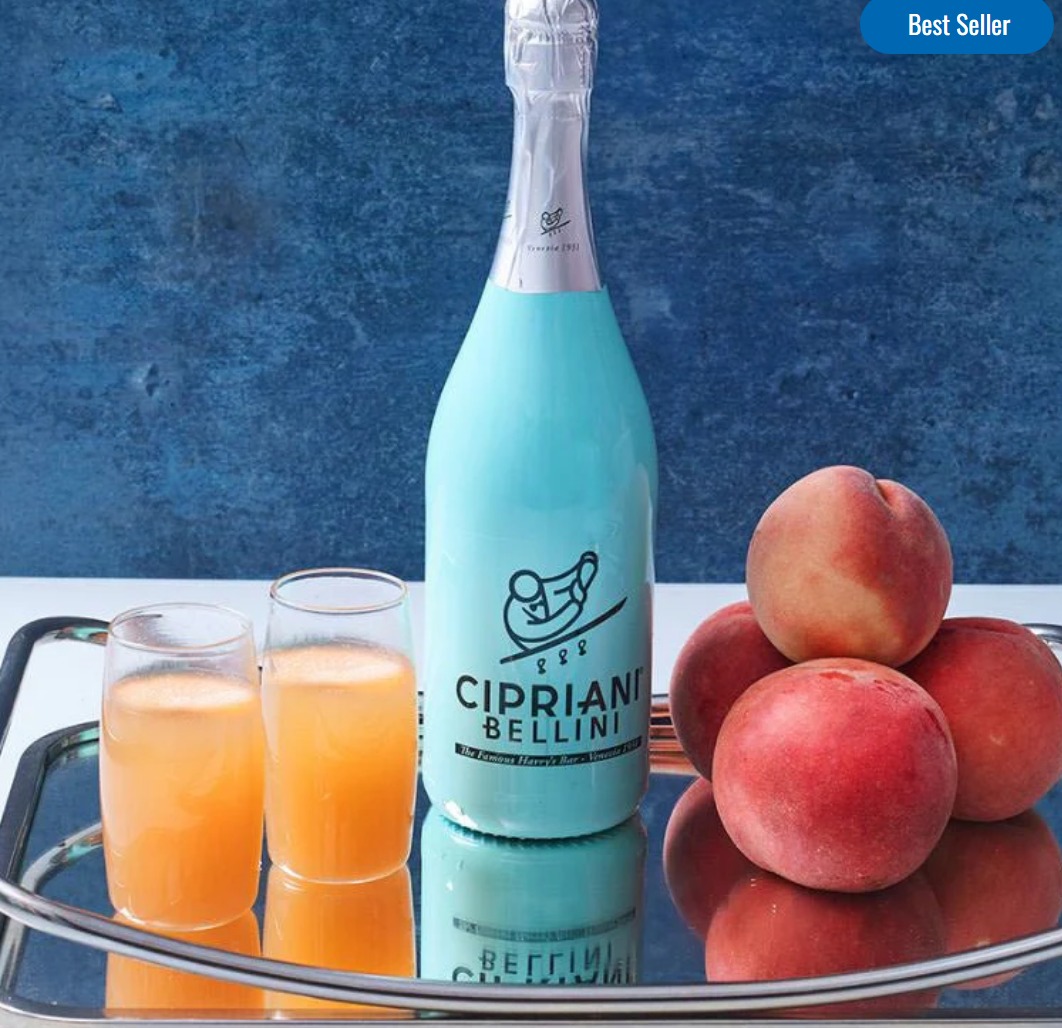 A sweet and easygoing drink that pleases both the palate and the eyes. The peach Bellini is made with only the best white peach puree, whose smooth texture combines with the sparkle of Prosecco to conceive a joyous cocktail that celebrates life.
The Bellini recipe has used the same quality ingredients since its original inception. The Prosecco and peach puree complete each harmoniously, no other aromas or flavors required.
A timeless cocktail for any occasion. The Bellini is, however, tightly tied to the Italian tradition of aperitivo.

So, it is best shared in good company with tasty snacks in hand.
RRP Was £25 currentlyJust  £15

Cipriani Bellini 750ml Bottle | Harry's Bar Italian Drinks | Sacla' UK

---