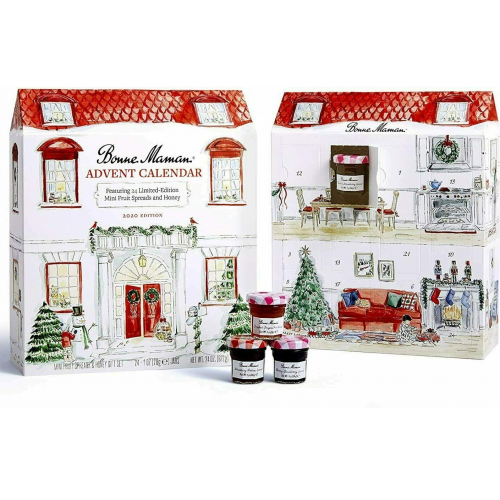 Bonne Maman 2020 Limited Edition Advent Calendar
About the product:
---
Add lovely vibrant colours and delicious flavours to your Christmas this year with the new Advent Calendar from French conserve specialist, Bonne Maman. 
The perfect way to say Joyeux Noel to loved ones during the holiday season, the calendar contains 23 adorable mini jars of jams and marmalades - each one offering an exclusive fruit variety or unique flavour combination -  concealed behind every door, plus an extra special surprise gift on Christmas Eve. 
Providing a delightful surprise fruit conserve to add delectable colour to every breakfast or tea through December, the 30g mini jars include a range of exciting flavours not usually available in the UK, such as Apricot and Mango Jam; Cherry and Elderflower Spread; Lemon and Yuzu Marmalade; Raspberry and Redcurrant Jam; White Nectarine and Peach Jam; Fig and Cardamom Jam; Mango, Peach and Lime Jam; Sweet Orange & Passion Fruit Jam; Apricot and Lavender Spread plus many more. 
---
Approximate Price
23.99
Review Date
Mon Nov 16 11:25 2020
---
Our Verdict
The iconic red and white lids of Bonne Maman and beautifully shaped jars are an absolute delight. We absolutely love this advent calendar, what a wonderful way to start your day every day throughout December than with a different flavour jam for your toast or porridge.  Each little jar gives you enough to share between a few of you each morning.  We love the Christmas eve surprise too - but we will keep that as a surprise for you!!
I strongly encourage you to make use of recycling the little jars too, use them for storage of little nik naks or why not keep them until next year and use them to make your own advent calendar filling each jar with a little treat.
Definitely one of all all time favourite advent calendars.
Available direct from Bonne Maman and also Amazon