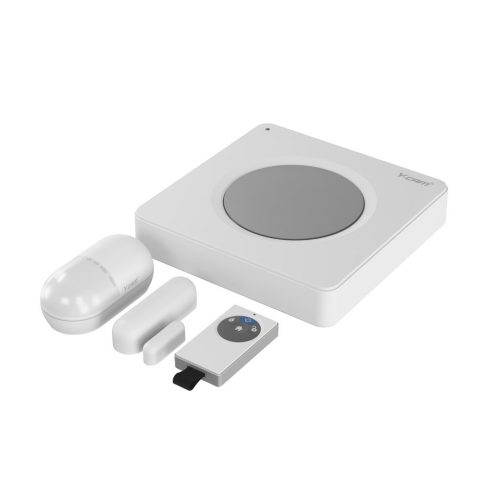 Y-Cam Protect Alarm System
About the product:
---
What Y-Cam Say
The complete Triple Layer™ smart home security system
Y-cam Protect is a complete Triple Layer™ security system designed to protect your property and family. It is really simple to setup and use, whilst offering high professional security standards without the high price. Y-cam Protect provides total control and flexibility for your home security needs, notifying you instantly to any alarms.
Triple Layer™ Security
The average UK home broadband internet connection is down approximately 18 full days a year; With SIM card backup, Internet backup and 8 hour battery backup, your Y-cam Protect system remains fully operational, even if your internet connection is down or you have a power cut. Triple Layer™ means you benefit from high professional security standards, without the high cost.
Complete Solution
Gives you Front Line Protection for your property and allows visual verification
Total Control
Stay in control and check the status of your property's security wherever you are via the free Y-cam app on iOS or Android. You can view recent activity, change settings, manage sensors and also arm/disarm remotely whenever you need to, e.g. to turn off the alarm if the cleaner is coming.
Trusted British Brand
Y-cam is a multi-award winning and trusted British smart home security brand that provides peace of mind to customers through their smart security products.
Expandable System
Tailor the system to your personal needs, add as many sensors and remotes as you like to fully protect what matters to you
Instant Alerts
All the information you need instantly to your smartphone no matter where you are
Stick and Go
Instant sensor set up, there are no running wires, no drilling holes, no professional installer required
Front line deterrent
The Y-cam Protect is a front line deterrent against unauthorised access to your home
---
Approximate Price
149.99
Review Date
Wed Jul 4 11:00 2018
---
Our Verdict
I am in love with this product yet slighlty left feeling a little missled by some of features advertised on the front of the box, we will get to that bit further on. Whats great about this then that makes me love it? First and foremost its simple, previous alarm systems i've installed in the past had dip switches to set home codes, large batteries, dialing settings, no remotes, big noisey keypads and no smart phone apps. So the out the box to setup compared to my old and dated system is like one tength the time, has smart control and can be placed in most places around the home near to your router. Has a keyfob included and the app helps you tweak, control and inform you of exactly whats going on.
In this box set you get a magnetic trigger for doors or window, keyfob, alarm box and infra red motion sensor. With me living in a mid terrace the addition of one more infra red and three more magnetic sensor had my entire house on lock down. Everything was quick and fairly easy to fit, with the only thing I think that could be improved (as I'm old skool DIY) is the addition of some drill guide sheets as I like to fit things firmly, however there are plenty of self adheisive pads if you wish to fit that way. On the whole it does everything well, but and yes I find a but. I would suggest reading fully to the end as it will become clear that once you understand what I found bad actually turned out to be reasonable, just took some thinking about.. On their site and on the box they push their Tiple Layer™ as a key feature of the product, with my first thought... what is triple layer protection. After visiting their site it only became clear watching a video which showed it had an internal battery, was connected via ethernet cable and had a sim card inside with a screw on GSM arial. So I though wow cool they've got all bases pretty covered, but then I found that the third layer of protection was only activated when taking out their Y-cam plus package at around £5.99 a month (optional). This to me was slightly confusing but once I understood it more it started to make sense. On a bit of investigation and looking into what you actual got for £5.99 it actually seemed a reasonable price for the service you received, however knowing what I do now, it would seem a great idea to check the inbuilt sim card coverage in your area. Overall this is a compentent, well made product, easy to install and with lots of expansion oportunity at afforable cost thats backed up by a reasonable optional service cost.