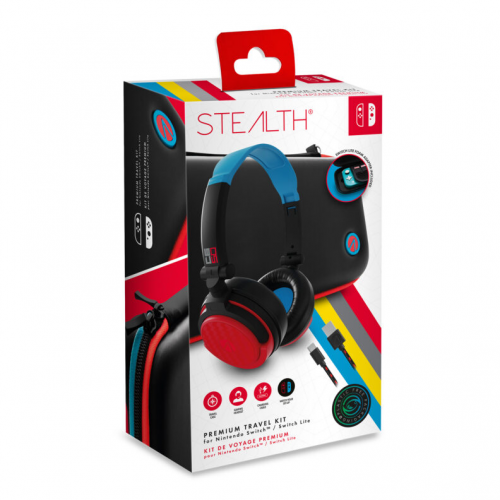 Stealth Travel Kit for Nintendo Switch & Switch Lite
About the product:
---
The Ultimate Travel Kit!
Tough and durable premium hard-shell Travel Case comes complete with 3 useful accessories ideal for gaming on the go.
Travel Case that fits Nintendo Switch or Switch Lite
Internal Foam adapter for your Switch Lite
Stereo Gaming Headset in neon red and blue
2m Premium braided play & charge cable
BUILT FOR NINTENDO SWITCH/SWITCH LITE: Protection, storage, audio and charging for your handheld console on the go
PROTECTION: Velcro storage pouch and full zip fastening to keep your Nintendo Switch or Switch Lite secure, with soft cotton lining protecting your console from scratches.
AUDIO & CHARGING: Lightweight fold up Gaming headset for in-game audio and a 2m play & charge cable, perfect for gaming on the go!
---
Approximate Price
19.99
Review Date
Sun Nov 28 12:09 2021
---
Our Verdict
Not only is this product great value, but it's so much fun. It helps bring the fun on Nintendo to your accessories too. The colours and design in this just POP. It comes with a nice sturdy case to protect your precious switch, a great looking and sounding headphone set that you can play away without upsetting the oldies whilst in the car and a extra charge cable so you can charge on the go too.
The headphones are good quality, comfortable and have a built in mic and inline volume and mute feature. The case has a flap inside for storing your games and is sturdy. The charge cable comes with a USB-C end to plug into your switch and USB-A connector for plugging into your own charger or in-car charger port.
Overall for the price this is again great value from Stealth, good quality and POP's colour. We love it.
Pros
For Switch and Lite
Great Value
Great Quailty
Great Design
---
More from this category