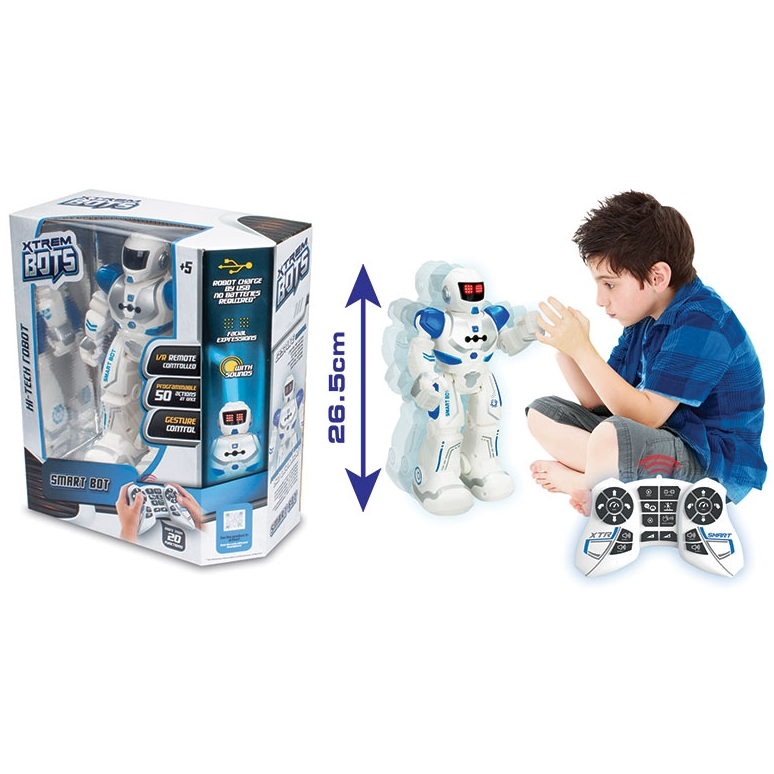 Xtrem Smart Bot
About the product:
---
Xtrem Bots Smart Bot Robot has 50 programmable actions and gesture control. Smart Bot can either walk or slide forwards, backwards, side to side, and even dances. Smart Bot's in-built motion detectors recognise hand gestures for additional movement, and the LED eyes produce a variety of facial expressions. The 20 function remote control can be used to program up to 50 consecutive actions for Smart Bot to follow. Smart Bot comes with a USB cable for re-charging


    Contents: A Smart Bot, an infra-red transmitter, a USB cable and a controller
    50 different actions
    Directional movements, speed, dance mode and volume adjustment
    Different facial expressions through its 18 LEDs
    More than 20 functions
    With Robotic Sounds
    Remote and hand signal control
    Infra-red transmitter reaches more than 5 meters of range
    Assembled Dimensions: 15.2L x 8.2W x 26.5H cm
    Batteries required: Robot: Included Controller: 2 AA batteries (not included)


---
Approximate Price
29.99
Review Date
Thu Nov 28 21:53 2019
---
Our Verdict
We were very intrigued by this robot.  Given that the price tag is only £29.99 and most robots released seem to be in much higher price brackets, we expected it to perhaps be lacking somewhat.  However we were very wrong.  Despite it's price tag this is actually a very well made and entertained piece of kit.

We do like the fact that it is what we would call a traditional looking robot rather than a cube.  This robot has hit top toy lists in past years and it's packed with functions...

It comes with a handheld remote (2 x AA batteries required), it responds well to hand commands and the handheld controller can be used to programme various different actions and commands (ticking the STEM box too).

All in all this is a great quality piece of kit for what we believe is a fantastic price in comparison to others on the market.  This will provide hours of entertainment for the kids and to be honest, us adults had quite a bit of fun with our new friend too.
We scored this so highly based on the interactivity and great value for money