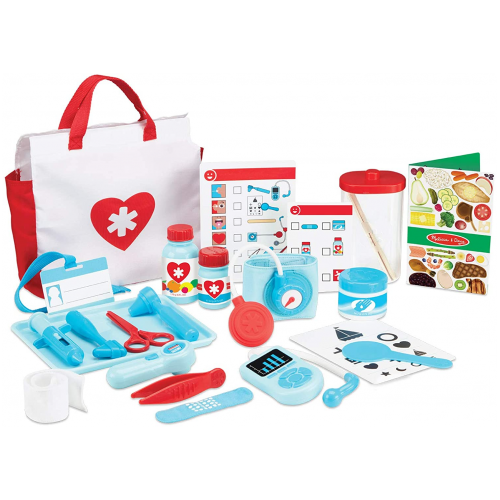 Melissa & Doug Get Well Doctors Kit Play Set
About the product:
---
The doctor will see you now! The 25-piece Melissa & Doug Get Well Doctor's Kit Play Set offers realistic accessories to let little doctors help patients get well! Kids three and older can pretend to check temperature, heartbeat, blood pressure, eyesight, hearing, and more. 
There are play tools like a syringe, play scissors, and reflex hammer, as well as play bottles, and bandages for examining and treating patients. Reusable activity cards and fun details like an ID badge on a lanyard and a magazine for patients in the waiting room round out the doctor's office experience. 

The play set is a fun and engaging way to ease any feelings of stress associated with a visit to the doctor and to encourage nurturing and empathetic play. Spark a child's creativity and imagination, and inspire young healers for years to come!

Peadiatricians recommend toys that inspire hands-on, imaginative thinking. Imaginative play with doctor toy sets like this one, can help promote language and social-emotional development. This play set makes a great gift for 3-year-olds, 4-year-olds, 5-year-olds, and up.

For more than 30 years, Melissa & Doug has created beautifully-designed imagination- and creativity-sparking products that NBC News called "the gold standard in early childhood play." Melissa & Doug design every toy to the highest-quality standards, and to nurture minds and hearts. If your child is not inspired, give them a call and they will make it right. The phone number is on every product.

---
Approximate Price
29.99
Review Date
Fri Nov 6 12:25 2020
---
Our Verdict
Name me a child who hasn't wanted to be a doctor or nurse at somepoint in time.  Melissa & Doug never fail to impress me with the fantastic quality, play ability and well thought out products they produce.
This little doctors play set has everything your child will need to create their own little gp's office at home. 

I can't believe they have even thought about the waiting room by including a magazine for the waiting room table. Combine this set with the Doctors gown costume available to purchase seperalty from the M&D range.

Another great set from Melissa & Doug combining playability, creativity with fantastic quality and attention to detail, as always very well though out.